An incident occurred at Angel Locsin's birthday-cum- community pantry earlier today, April 23.
Rolando dela Cruz, a 67-year-old man fainted while lining up for Angel's food bank and was pronounced dead on arrival at the hospital.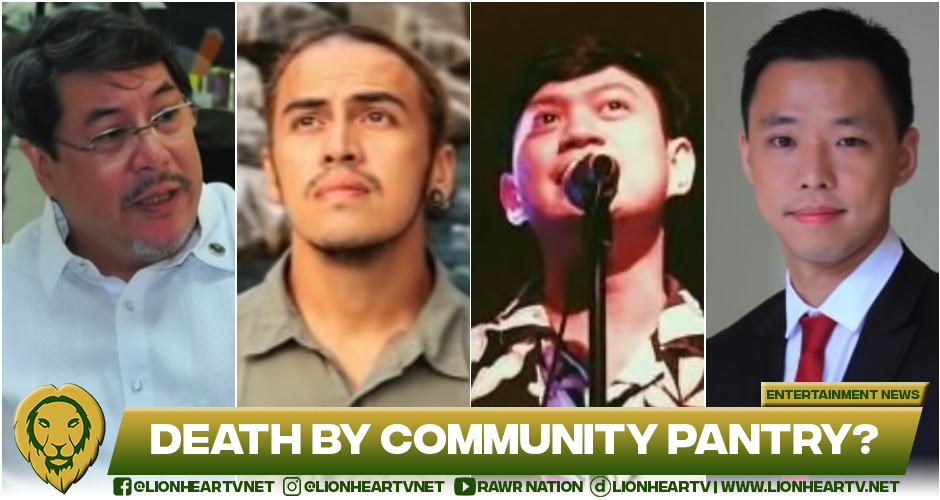 This tragedy led the adviser of the Interagency Task Force against Covid-19 (IATF) Teddy Herbosa to blame the organizers of the community pantry.
Herbosa was seen by personalities and Netizens talking about how his prediction being right—a man died due to the community pantry.
"Death by 'Community Pantry'. I told you so!" tweeted Herbosa.
But before he could make his tweets private, several Netizens and personalities already captured his remark and were utterly furious about it.
A twitter personality questioned such a remark from Herbosa.
The Netizen wanted the IATF adviser to explain whether he wished such a thing to happen or it's his pleasure to see someone's misfortune.
Where did that come from, @Teddybird ? The "I told you so?" Like, you predicted someone will collapse and die in a community pantry line? Did you wish for this to happen? Is that a schadenfreude thing?

— Ma'amSyj🇵🇭 (@MaamSyj) April 23, 2021
Journalist Barnaby Lo rebuked Herbosa's statement.
People endure the heat and stand in line for hours because the Government failed to provide enough help, the reporter said.
Someone died while waiting for his turn at a community pantry. An IATF medical adviser says it's "death by community pantry." Sir, no. People endure the sweltering heat for a bag of food aid because guess what, the government has not provided enough help. So whose fault is it?

— Barnaby Lo 吳宗鴻 (@barnabychuck) April 23, 2021
Journalist Yvette Tan likewise rebutted Herbosa's statement that the community pantry is to blame for the incident.
Tan blamed the system that "forces people to line up for food from a community pantry."
A death in line to get food from a community pantry isn't the fault of the community pantry but of a system that forces people to line up for food from a community pantry to begin with.

— Yvette Tan (@yvette_tan) April 23, 2021
TV personality Kiko Rustia criticized how Herbosa shared his opinion regarding community pantries.
Rustia stressed that the adviser should not have pointed out the absence of crowd control in an ill-manner.
The TV host even said that Herbosa could have said it in a "humble, sympathetic, and empathetic manner" that is not demeaning to the community pantry's spirit.
He even assumed that Herbosa is trying to be like IATF's consultant Edsel Salvaña.
If you wanted to point out the lack of crowd control / protocols, you could have said that in a humble, sympathetic, and empathetic manner w/o attacking the spirit of the community pantry and the desperation of the people.

But if you wanted to be an ass like Edsel, carry on. https://t.co/8hTnSq4uJG

— kiko rustia (@kikorustia) April 23, 2021
A twitter personality took a screenshot of Herbosa's tweet. It will serve as proof of how hollow the health adviser is.
Screenshotting so no one ever forgets what sort of completely hollow ghoul is a main reason for our failed, anti-human health policy. Shame on you, you fucking hack. pic.twitter.com/UxzxdvkSqg

— bollard enjoyer, alipores #1 (@goodkidbikecity) April 23, 2021
Writer Alfonso Manalastas scrutinized Herbosa for his lack of empathy.
According to Manalastas, blaming the community instead of the Government only shows how "evil and dishonest" the current regime is.
So insidious and morally empty to gain satisfaction from what one frames as intellectual vindication, pinning blame on community efforts that seek to address needs that the government unequivocally failed at — only shows how disgusting and evil and dishonest the state is!!! https://t.co/qFarwidKJi

— Alfonso Manalastas (@not_alfonso) April 23, 2021
A twitter personality even called Herbosa, a doctor, a "heartless jerk" for his tweet.
What a heartless jerk. And you're a doctor pa, jusko. https://t.co/3b1lmrDtCs

— Demontitang Aczar [email protected] (@mrsunlawyer) April 23, 2021
A twitter personality emphasized how incompetent Herbosa is. She pointed how COVID-19 patients, who waited outside and died since hospital emergency rooms are full.
Hey sis Teddy Herbosa , yung mga COVID-19 parients na namatay sa pila sa labas ng mga emergency rooms dahil walang kama or kwarto, kaninong kasalanan yon?

Balita ko ER doctor ka daw? 🤔 pic.twitter.com/8NIzPNhGLH

— BrujaTortillasDeliciosas (@BrujaDelDemonio) April 23, 2021
A Netizen slammed the adviser's tweet and reminded the people that Herbosa is part of the Government, who failed to respond to the pandemic.
Just a reminder that this person is one of those responsible for the government's FAILED pandemic response. https://t.co/WpIwBj8PoF

— Laurence Castillo (@benok_castillo) April 23, 2021
Philip Jamilla, a "Karapatan" (an organization) officer, condemned Herbosa for being "brazenly inhuman and anti-people." He even attacked Herbosa's position as an adviser of the IATF, which failed in its plan to subjugate the pandemic.
Jamilla then explained the reason why hundreds of people are lining up for community pantries. The reason is that the public has not received enough Government aid or even a wage subsidy.
Hundreds of people are lining up for community pantries because communities and households have not received enough government aid or wage subsidy. When they die in these lines just so they can have food to eat for the day, whose fault is it? Teddy Herbosa is utterly despicable.

— Philip Jamilla (@pmjamilla) April 23, 2021
Even ABS-CBN reporter Kristine Sabillo is sad by Herbosa's thinking.
I feel sad for those who think community pantries are borne out of "fake kindness." Sino ang nanakit sayo at ganyan ang pananaw mo sa buhay? Nakakalungkot na may mga taong hindi siguro nakakaramdam o nakakaintindi sa konsepto ng kabutihan at sa abilidad nitong "makahawa" sa iba.

— Kristine Sabillo 🇵🇭 (@kristinesabillo) April 23, 2021
Dr. Iris Thiele Isip Tan reminded her colleague that there was also a long line at Philippine Government Hospital's (PGH) Outpatient Department who were waiting to get admitted because of Covid-19.
Parang nakalimutan mo na ang mahabang pila sa PGH OPD dati. Madaling araw pa lang ang haba na.

— Iris Thiele Isip Tan MD, MSc (@endocrine_witch) April 23, 2021
Meanwhile, Angel Locsin apologized for the mishap and stressed that it was not her intention to bring death amid her opening a community pantry.
"Hindi po ito ang gusto ko. Nagsimula po kami na maayos po ang aming layunin. Pati ang pagpa-plano ng social distancing. Nagkataon lang po siguro talaga na gutom lang 'yung tao na kahit wala po sa pila sumingit na po sila.
"Sa mga nagambala ko po dito, pasensiya na po, hindi po ito ang intensiyon ko.
"Pasensiya po, pasensiya po. Gusto lang po i-celebrate 'yung birthday ko sana na makatulong po ako sa mga tao. Hindi ko po intensyon na makagulo. Pasensiya na po," Angel explained and apologized.
Locsin also promised that she will help the bereaved family, making it her responsibility to support them get through it.
"Sa ngayon po, I will prioritize helping the family and I will make it my responsibility to help them get through this," she wrote on her facebook.
Quezon City Mayor Joy Belmonte released a statement regarding the death of the man. According to the mayor, the Quezon City government, "will shoulder the burial expenses of Mr. dela Cruz, and will extend financial assistance to his family."
Comments