Philippine President Rodrigo Duterte congratulated the country's first-ever Olympic gold medalist Hidilyn Diaz in a virtual courtesy call, Wednesday night, July 28.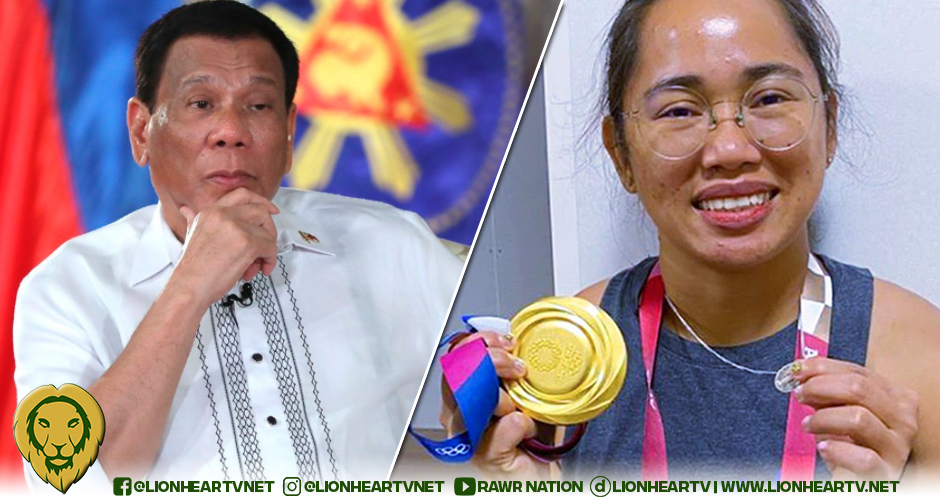 Diaz appeared in the zoom meet with her military uniform saluting the President.
During the courtesy call, President Duterte lauded Diaz's achievement and acknowledged her sacrifice.
"The nation is ecstatic about your achievement. Your achievement is the achievement of the Philippine nation. We are extremely proud.
"Salamat naman sa pagtiis mo . I hope that the years of toil, the years of disappointments, and the years na hindi maganda ang nangyari in the past, /just forget them."
Then, President Duterte remarked that she should let bygones be bygones.
"You already have the gold. Gold is gold. It can be good for you to just let bygones be bygones and dwell solely on your victory together with your family and, of course, with the nation."
Before her Olympic gold medal, President Duterte's team, led by then-House Speaker Salvador Panelo, included her in the administration 'oust Duterte' matrix in 2019.
Due to the said matrix, Diaz feared for her and her families' lives. 
"I am shocked. I am concerned for my security as well as that of my parents.
"My mother is terrified because they (journalists) are interviewing her, and she has no idea why."
She also denied the allegations thrown at her due to the 'Oust Duterte' matrix.
"The message is before you feel pain about it, tingnan mo muna kung tama yung sapantaha mo."

This is what ex-Presd'l Spox Sal Panelo has to say to Hidilyn Diaz, after a senator said he must apologize to the #Olympics medalist for linking her to an alleged Duterte ouster plot. pic.twitter.com/qi4DoNtjlt

— ABS-CBN News Channel (@ANCALERTS) July 28, 2021
In an interview with ANC, Panelo distanced himself from the said matrix despite presenting it to the public and naming personalities. However, Panelo apologized for Diaz's pain and "hurt" feelings.