LA Comedy Live presents The Expat Comedy Show — the first-ever LIVE comedy show this year to bring 6 expat comedians into one stage. The show will happen on Sunday, 24 October 2021, 8pm at the Esplanade Concert Hall.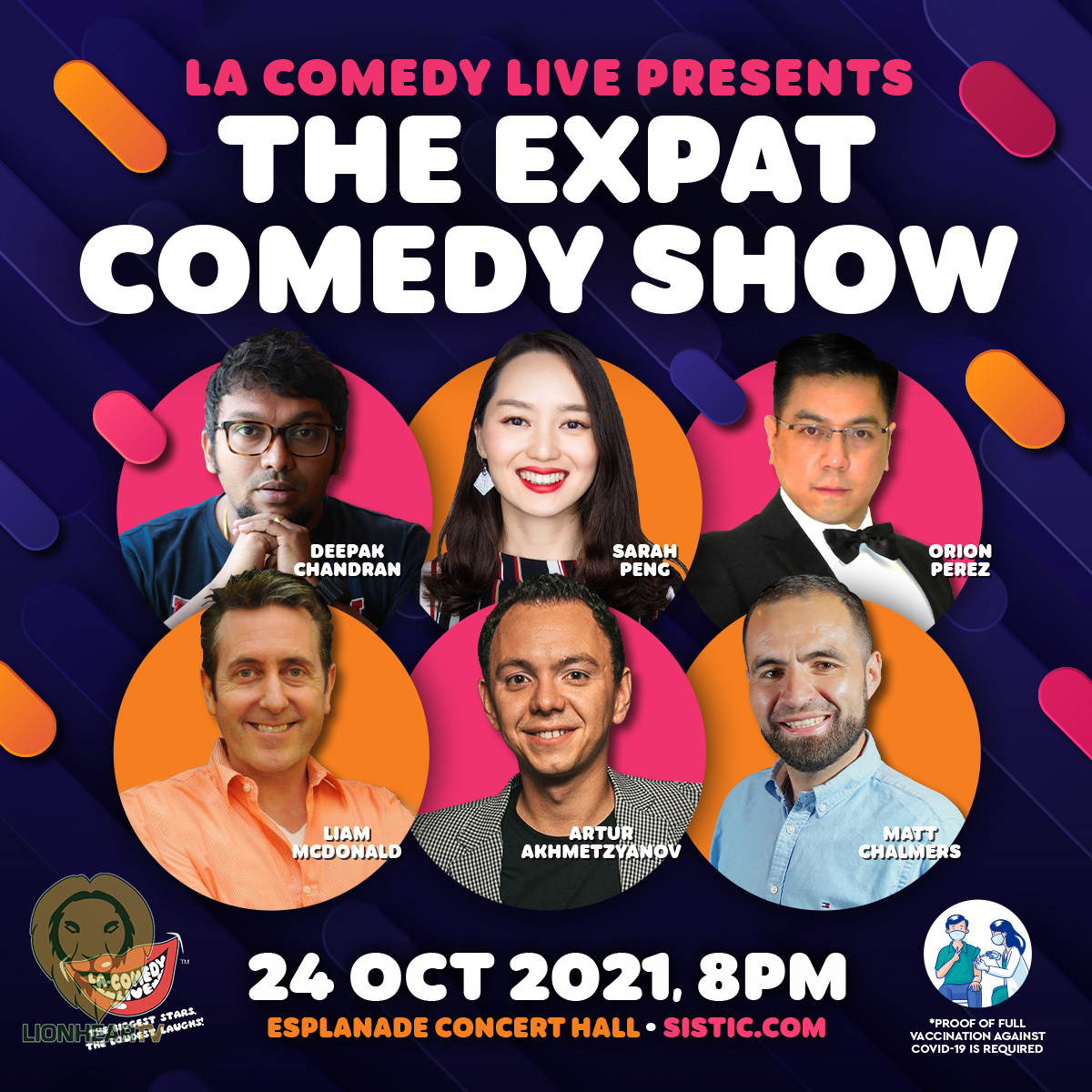 With the fusion of new material and greatest hits from 6 of our best imported laughs
— featuring Deepak Chandran (Indian); Orion Perez (Filipino); Liam McDonald (Canadian); Artur Akhmetzyanov (Russian); Matt Chalmers (British); and Sarah Peng (Chinese). Expect a hilarious, good laugh-out-loud fun as the comedians cover topics on living in HDB or tetris-like houses, fines, fines and more fines, relationship with Singaporeans and of course our Nation's favourite – The Food Culture.
This show is suitable for both local and expat audiences that are keen to take on the point of view of an expat living in our Sunny Island, Singapore.
Standard tickets S$60 & S$65 are on sale from 13 September, 2021 – Monday at 10:00 am SGT. All tickets are available via the official ticketing agent SISTIC.
Important Reminder:
The event only allows attendees who are fully vaccinated against COVID-19 in Singapore by Sunday, 24 October 2021.
• Fully vaccinated individuals who have completed their full vaccination regime at least 14 days before the event
• Only MOH-approved vaccines are accepted. I.E: (Pfizer-BioNTech/Comirnaty, Moderna, Sinovac-CoronaVac, or any vaccines recognized in the World Health Organization's Emergency Use Listing (WHO EUL*)
• Kindly note that hard copy overseas vaccination certificates or doctor letters' qualifying that the individual is not able to be vaccinated will not be recognized. Screenshots will also not be accepted.
*For more information, please refer to the Ministry of Health's (MOH) Post Vaccination Matters webpage for more information.