The Kapamilya noontime show not only managed to inch closer to its Kapuso rival, Eat Bulaga, but it also outsmarted the former rival show, and now pre-program, Tropang LOL, from August 1-4.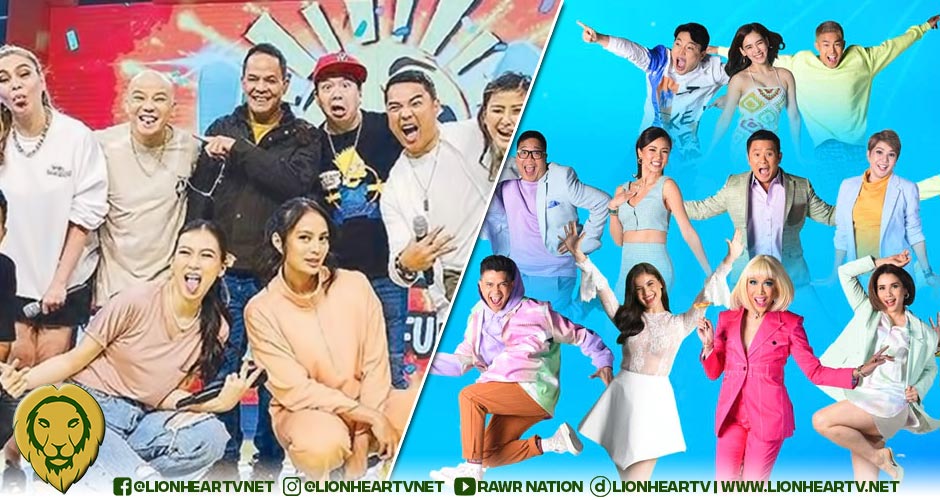 The positive impacts of the collaboration between ABS-CBN and TV5 on noon time have been quickly manifesting through the improving viewership of its pre-noontime and noontime shows, Tropang LOL and It's Showtime. Ever since the two programs started airing back-to-back on A2Z, Kapamilya Channel, and TV5, both shows received a massive boost in their TV ratings, according to AGB Nielsen.
It looks like, however, It's Showtime has been benefiting more from the collaboration, as it continues to post impressive ratings. Other than doubling its viewership, the 13-year-old noontime show, has maintained a comfortable lead from Tropang LOL. It's Showtime also notably trimmed down Eat Bulaga's lead to just around 2%.
It's Showtime attracted rarely-seen post-ABS-CBN-shutdown viewership from August 1-4. AGB Nielsen's National Urban TV Measurement (NUTAM) data reported that the show posted 2.6% people rating on Monday, August 1; 3.1% on Tuesday, August 2;, 2.7% on Wednesday, August 3; and 2.8% on Thursday, August 4. Those figures are higher than those of Tropang LOL, which posted identical 2% people ratings from August 1 to 3, and 2.4% on August 4.
Aside from its stellar performance in the rating game, It's Showtime continues to dominate social media platforms, with hashtags and topics connected to the show consistently topping the local charts, on Twitter, and even on TikTok. Tickets given out to Kapamilya viewers who wish to become live studio audiences are also sold out, on KTX.PH, proving the massive excitement, that the show's reopening its studios for live audiences, has generated.
It's Showtime is notably the only live-airing noontime show that allows live studio audiences. Last week, the noon time moved back to its renovated studio and debuted the third season of its highly successful drag segment, Miss Q and A.