The Year of the Water Rabbit is almost upon us! And with the start of another year, many experts say that it will be a period of hope since the Rabbit symbolizes longevity, peace, and prosperity.
To start the year right, Araneta City is celebrating the Chinese New Year with the theme "Leap Into the Lucky Year", complete with fun activities that will surely attract luck and good tidings to you and your loved ones.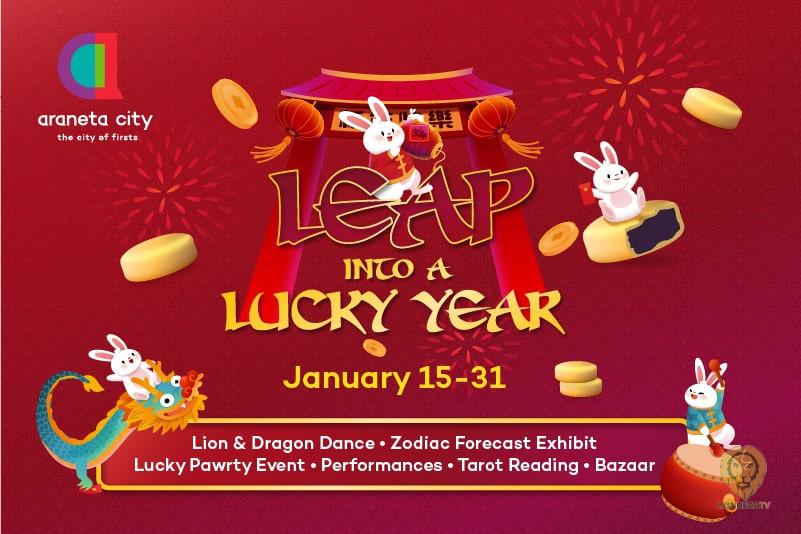 First, the City of Firsts has prepared a special Chinese zodiac forecast exhibit to guide you through the rest of the year. Read up on what the year has in store for you in terms of career, love, and finances. The exhibit will be at the activity areas of Gateway Mall, Ali Mall, and Farmers Plaza from January 15 to 31, so make sure to pay a visit.
Chinese New Year celebration is not complete without a lion and dragon dance? On January 21 and 22, watch out for the luck-bringing lion and dragon dancers within Araneta City to help start off the Lunar New Year with prosperity.
The fun doesn't stop there, as shoppers can interesting luck-attracting finds at the Year of Rabbit bazaar. This will be at the Gateway Mall Activity Area from January 23 to 31.
Meanwhile, Araneta City-zens with fur-babies can also attract prosperity by joining Ali Mall's Lucky Pawtry costume party on January 22. Just dress up yourself and your pets in matching festive Chinese New Year-inspired get-up for a chance to win exciting prizes. Other activities for the Year of the Water Rabbit at Ali Mall are a There will also be a photobooth, basic grooming booth for pets, and medical checkup for pet owners courtesy of Keralty Clinics to make the party more fun-filled.
Farmers Plaza is also bringing in Wushu and Acrobats performances and tarot card reading session to welcome the Chinese New Year on January 22. There will also be photobooth and freebies to complete the exciting celebration.
Even dining out at the City of Firsts can bring luck via the Lucky Wallet Giveaway promo! Just dine in at Food Express, Food Plaza, Food Gallery, and Dampa at Farmers Market and spend at least ₱250 for your meal combined with any of your favorite Coca-Cola products to get a cool collectible wallet. The Lucky Wallet Giveaway will run on January 21 and 22.
Share the prosperity even online via Araneta City's digital promo. Just take a photo with any of the grand Chinese New Year decor at the City of Firsts, post it on social media, and write a caption detailing why you're feeling lucky this year for a chance to win exciting prizes!
"Let's welcome luck and prosperity into our lives this 2023 as we celebrate the Year of the Water Rabbit. Visit Araneta City and experience all of the fun things that we've prepared for you and the entire family this Chinese New Year! We can't wait to see you here," Marjorie Go, AVP for Marketing of Araneta City, said.
Comments