Celebrate love month with different stories of love from Tarsier Records' roster of artists—allen&elle, Jon Guelas, Inigo Pascual, NAIV and Thomjay, Nameless Kids, Viñas Deluxe, and Zion Aguirre—and their Valentine's curated Spotify playlist "Love Frequency."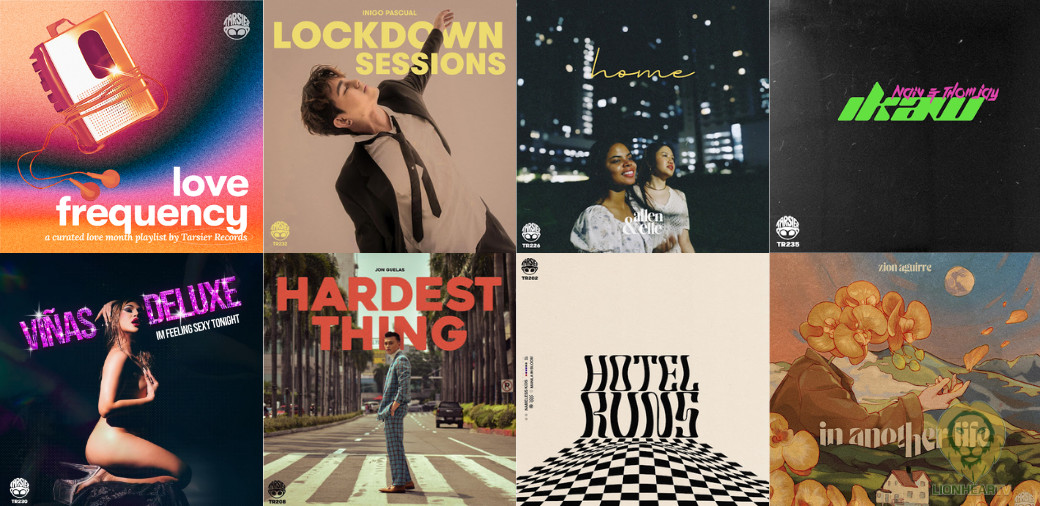 Here are seven tracks that will surely give you the "feels" of endearment, longing, heartbreak, and self-love this Valentine's season:
1. Happy crush: "First Impressions (Lockdown Sessions)" by Inigo Pascual
Stripped down to its acoustic vibes, Inigo Pascual offers a reimagined version of "First Impressions" that expresses the feelings of being struck by infatuation after seeing a crush.
2. The one: "Home" by allen&elle
This gospel and soul track tells a story of finding that special someone that makes you feel safe, loved, and accepted. With Allen's powerful vocals and Elle's beautiful production, the track may feel like a long and tight hug for the listeners.
3. Significant other: "Ikaw" by NAIV and Thomjay
NAIV and Thomjay's R&B love song perfectly encapsulates the feeling of falling in love and the longing for an emotional connection with a partner. Its smooth and mellow melody combined with chill trap beats sets a perfect mood for late night drives and chill nights.
4. Growing apart: "Hardest Thing" by Jon Guelas
Jon Guelas' "Hardest Thing" touches on the difficult situation of staying honest to someone even if it would hurt them. Its commercial pop sound paired with a deeply emotional message is the best way to describe growing apart and becoming different people.
5. Exes and situationship: "Hotel Runs" by Nameless Kids
Keep running back to an ex? Or have confusing relationship labels? Nameless Kids has the anthem for you with their 80s grunge track "Hotel Runs." The track showcases live drums, guitar solos, synths, and rhythmic and percussive vocal melodies which depict a darker sound of "Nameless Kids.
6. Lingering past: "in another life" by Zion Aguirre
The ballad track "in another life" deals with love, loss, and expressing one's genuine feelings to see that person in the next life. It signifies Zion's yearning for freedom to become the genuine, authentic, and genderless self as he steps into a bolder chapter of life.
7. Self-love: "I'm Feeling Sexy Tonight" by Viñas Deluxe
Drag Pop Misis Viñas Deluxe is serving a fun, sassy, and confident anthem for those who want to feel sexy with themselves. With its modern twist, the 80s remake boasts an edgier sound making it suited for an all-out dance party.
Whether you are single, in love, taken, taken for granted, or in a complicated relationship, "Love Frequency" has it all for you. Stream Tarsier Records' curated playlist of love on Spotify. For details, follow Tarsier Records on Facebook, Twitter, Instagram, TikTok, and YouTube.
Comments