Kick off the new year fun and fast by making your kids' playtime even more exciting! Jollibee and the whole gang of kiddie mascots race into your homes in their favorite rides in the newest racing-themed Jolly Kiddie Meal toys—Jollikids on Wheels!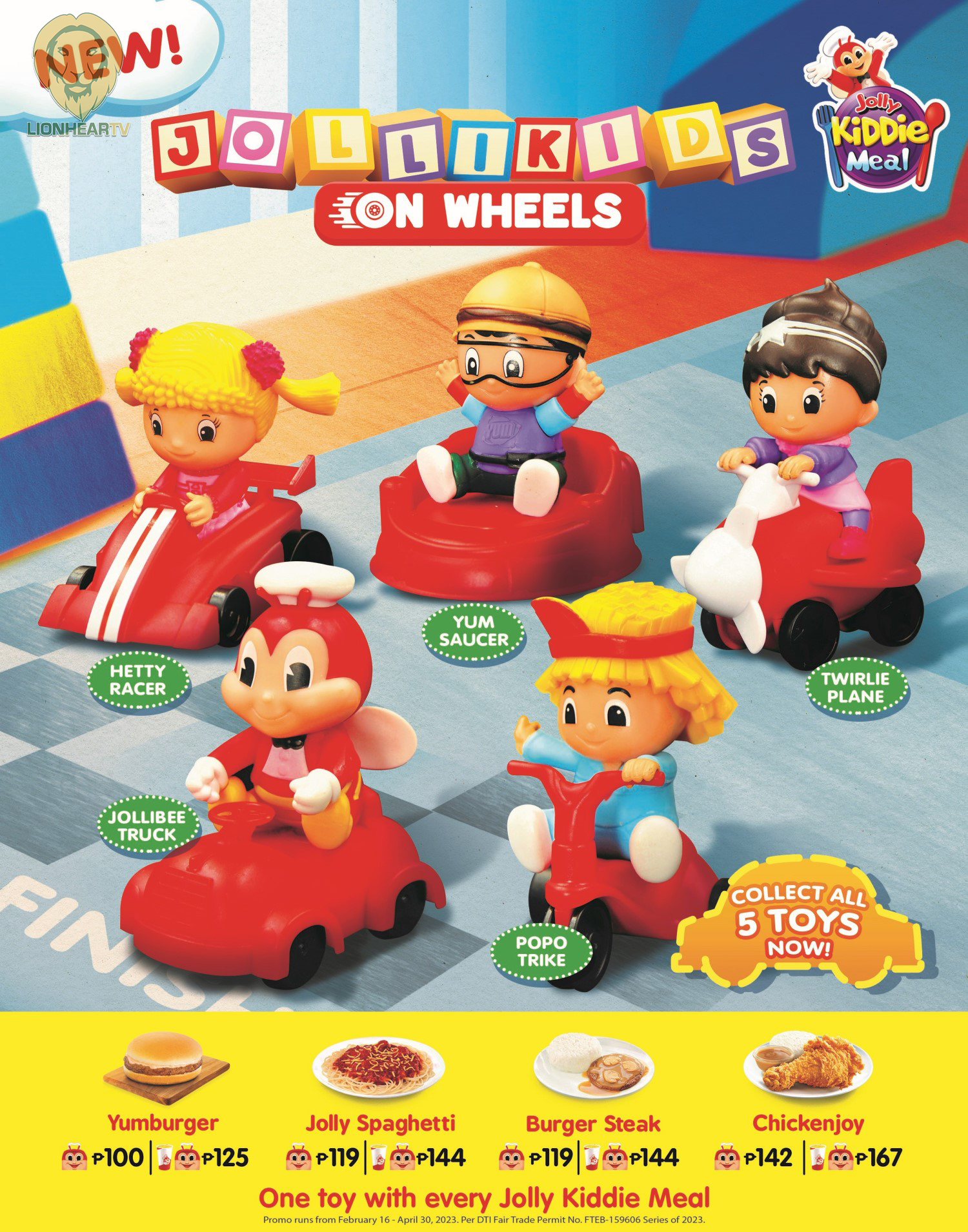 Starting up front is Jollibee, who can move sideways and make awesome racing sounds. Zooming in next is Hetty, who has a launcher at the back of her car that can get her to high speeds. Popo rides with style on his scooter, with colored lights that activate at a push of a button. Twirlie can fly high thanks to her plane's spinnable propeller, and spinning his way to the track is Yum with a saucer that can rotate 360 degrees.
Get all 5 Jollikids on Wheels toys with your favorite meals and have lots of fun! Each collectible toy is available with every purchase of a Yumburger (PHP 100), Yumburger and regular Pineapple Juice (PHP 125), 1-pc. Chickenjoy with Rice (PHP 142), 1-pc. Chickenjoy with Rice and Regular Pineapple Juice (PHP 167), Jolly Spaghetti (PHP 119), Jolly Spaghetti and Regular Pineapple Juice (PHP 144), 1-pc. Burger Steak (PHP 119), and 1-pc. Burger Steak and Regular Pineapple Juice (PHP 144).
Rev up your engines, race to a Jollibee near you, and grab yourselves the new Jollikids on Wheels Jolly Kiddie Meal toys! The promo is available from February 16 to April 30, 2023, so don't miss a chance to collect all five toys!
Get your Jollibee Kiddie Meals in your nearest Jollibee branch, or have them delivered through the Jollibee App, calling the #8700 hotline, foodpanda, or Grab. For more info on Jollibee Kiddie Meals and other products, follow Jollibee on Facebook, and @jollibee on Twitter, Instagram, and TikTok.
Comments