The shocking announcement came shortly before the network's press release about its joint venture with Romualdez-owned Prime Media Holdings Inc.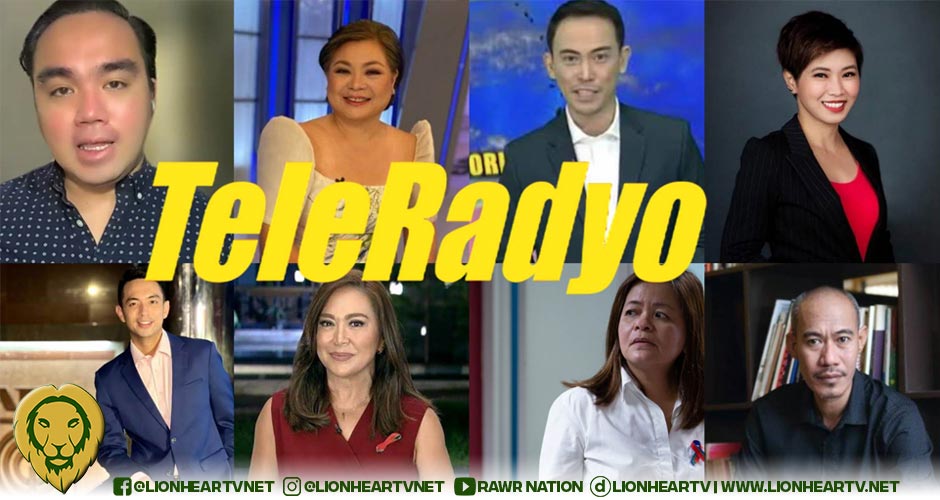 Messages of support and comfort came flooding in for TeleRadyo employees, following ABS-CBN's official announcement of the all-Tagalog news channel's closure on June 30, after being on air for 13 years. The channel was DZMM's radio counterpart, until ABS-CBN's shutdown in 2020. It has since been a standalone cable channel for three years.
ABS-CBN, on Tuesday, May 22, announced that it would terminate TeleRadyo's operation on June 30, after three years of financial losses.
https://twitter.com/JerryGracio/status/1660932316753952769
Here are some reactions from netizens, radio and TV personalities alike:
We call on the ABS-CBN management to ensure not only that the TeleRadyo staff are given the commensurate benefits due them but that they are also assisted in looking for employment within or outside ABS-CBN.

– @NUJP_ABSCBN Executive Committee

We stand with you, Teleradyo. pic.twitter.com/vW5TRk8xOZ

— Jacque Manabat (@jacquemanabat) May 23, 2023
Three years later and we're still seeing the effects of ABS-CBN losing its franchise under the Duterte govt. Truly heartbreaking. Standing with you, mga Kapamilya. https://t.co/xrWeUBY1EW

— Mara Cepeda (@maracepeda) May 23, 2023
17 years in DZMM and DZMM Teleradyo. From 2001 – 2018. @DZMMTeleRadyo has been part of my 30 year broadcast journey.

After June 30, Teleradyo will say goodbye but DZMM will return on AM radio reaching millions of Filipinos once more.

As we face a changing media landscape, may… pic.twitter.com/PG7GRjK2dV

— Karen Davila (@iamkarendavila) May 23, 2023
Maraming Salamat Teleradyo!
💔💙💚

ABS-CBN announces changes for TeleRadyo | ABS-CBN News https://t.co/VLqj7qtsI5

— Johnson Manabat (@JohnsonManabat) May 23, 2023
After three years, never thought I would feel this again. Heart goes out to #Teleradyo and our Kapamilyas in the newsroom.

We will always be in the service of the Filipino.

— Migs Bustos (@migsbustos) May 23, 2023
💔💚💙
Hugs to everyone @DZMMTeleRadyo 😢 https://t.co/SgsPlabCG6

— Lynda Jumilla-Abalos (@lyndajumilla) May 23, 2023
My heart goes to @DZMMTeleRadyo and the family I left behind there… You see, I started my career with DZMM 630khz as a monitoring assistant 15 years ago back when Teleradyo was still on test broadcast. I remember running the visual component of my explanatory special reports…

— Zandro Ochona (@ZandroOchona) May 23, 2023
#TeleRadyo staff reportedly surprised by ABS-CBN's announcement of the internet radio station's closure. They say they were not informed beforehand, and they only knew from press reports.

ABS-CBN execs to explain their decision in a 2:30 pm assembly today.

— Tonyo Cruz (@tonyocruz) May 23, 2023
Concerned #TeleRadyo staff are furious that the ABS-CBN statement did not mention benefits or protections for affected workers, even as it trumpeted a new joint venture agreement.

— Tonyo Cruz (@tonyocruz) May 23, 2023
This is heartbreaking. I'm thinking of my #Teleradyo team today. You all did everything you could – to keep delivering news & information in the face of monumental challenges. Don't let anyone or anything crush your spirit. https://t.co/mZMGP5qZta

— GING REYES (@gingreyes) May 23, 2023
Nagsama-sama kami kagabi para hindi masyado masakit. But this cut is the deepest. #TeleRadyo stayed on air. We, I never left. But yesterday's news have called the endgame. We only have a number of days to be in our home, with this team, with this family. Ito na yun. Last 36 days pic.twitter.com/xZjviqiaNN

— Tina Marasigan (@tina_marasigan) May 24, 2023
Hello. Sa lahat ng nagparating ng kanilang mahigpit na yakap, thank you po.

It's so hard to be away from my people while this is all happening.

Pag-uwi ko, magyayakapan tayo. Iiyak, magtatawanan, iiyak ulit, pero babangon muli.

Salamat sa pagmamahal sa #TeleRadyo 💔💚💙

— Karmina Constantino-Torres (@ConstantKC) May 23, 2023
A sad day today. 💔💚💙

Even with very limited resources, @DZMMTeleRadyo continued providing its trademark public service.

So proud to have been part of special bagyo coverages last year of the platform where I was first introduced as the new ABS-CBN resident meteorologist. pic.twitter.com/oRwlnMCgEC

— Ariel Rojas (@arielrojasPH) May 23, 2023
TeleRadyo stayed on the air for more than 16 years. As it exits television on June 30, DZMM, meanwhile, is poised to make a comeback to radio. According to a TV Patrol report, ABS-CBN's joint venture with Romualdez-owned Prime Media Holdings Inc. ensures that some of TeleRadyo's employees will remain with the company.
Comments