Sitting atop a hill that practically serves as a converging point for some of the city's touristy spots, this classy yet elegant hotel makes a stay in the City of Pines a really rewarding and relaxing experience.
When you think about Baguio City, you imagine it being just a gigantic space meant for relaxation. The thought about its chilly weather and the picturesque scenery alone, provide the much-needed comfort you want to have amid a hectic schedule or work. But given the bustling nature, and the amount of ecstatic yet tiring activities that the city offer, you would still long for a place to relax and recuperate, when all the sightseeing and energy-drenching activities are over. Good thing in Baguio, there's Azalea.
Location.
Located along the Leonard Wood Loop, Azalea Hotels Baguio is a standout spot in one of Baguio's busiest districts. Just a few minutes from Session Road,  Teacher's camp, and SM City Baguio, the place is definitely a perfect hub for travelers, who wish to have the easiest access to some of the city's finest tourist and commercial spots. Camp John Hay and Mines view park are also just minutes away from the hotel.
Hospitality service.
One of the most fascinating feature, and perhaps the biggest reason to avail the services of this hotel, is its hospitable staff. You are really a guest when you book at Azalea. That is, they give you the utmost excellence, when it comes to accommodating their guests. Upon arrival, I and the rest of the bloggers who were part of our group, got welcomed with genuine smiles and generous service from the staff. I honestly got impressed by such a welcome gesture.
Rooms and rates.
The room tour given to us felt almost equivalent to a night of stay in one of the hotel's finest rooms. Rates depend on the size of the rooms, but service remains excellent regardless if it's the cheapest or the most pricey one. All suites are well-furnished and amenities are on a different level of completeness. Living rooms are spacious and provided with comfy sofa beds and LED television. The bathrooms are complete with neat and clean toilet bowls, cold and hot showers. The dining room is impressively well-organized, with cozy table and chairs.Beds are wrapped in heavenly comfy linens that feel like cotton clouds when you lie and sleep on them.
Rates depend on the day of stay and the size of the rooms. The cheapest regular room you can get is priced at a minimum of PhP6,000, which is the published rate. On holidays, that goes down to as low as PhP4,800, and can still be cut in half, during flash sale. Below are the updated list of prices for the available rooms: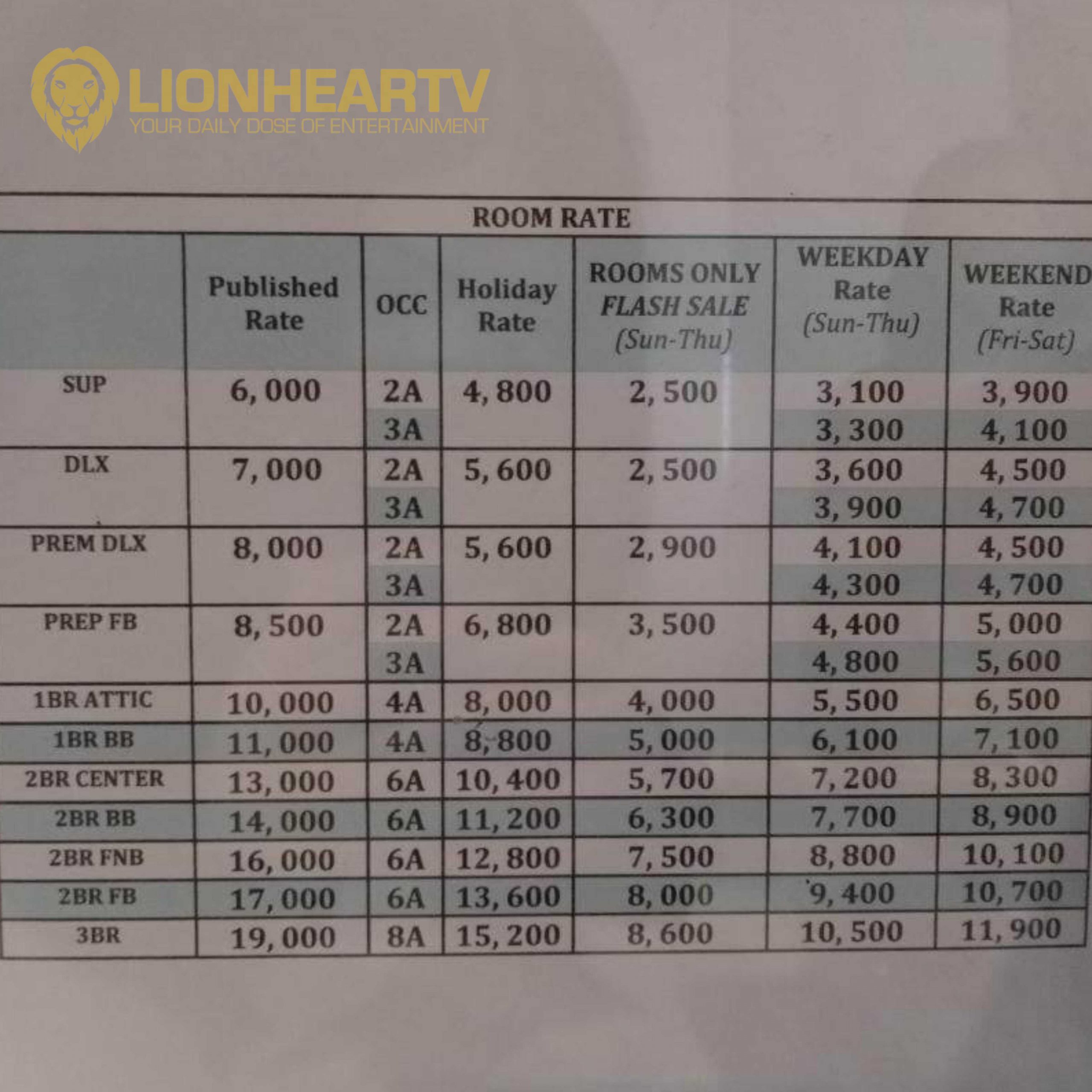 As above-mentioned, the best feature of Azalea is the excellent hospitality service it offers, which makes it Baguio City's comfiest place for downtime. But then, it's also a perfect spot for workcation, or even a transient stop for your business trips. Th ameneties are top notch, and I should not forget, the food as well, are delicious and delectable, despite their reasonable prices.
Book now and make sure your next visit Baguio City becomes your most memorable yet.
Book now and make sure your next visit Baguio City becomes your most memorable yet.  
Contact information (from the website):
Hotel Trunk Lines: (6374) 4248712 / (6374) 4248713
Comments