The music video will be available on Cross Ratio Entertainment and Gentle Bones' Facebook, and Gentle Bones' Youtube page on 27 January 2021, 9PM.
The power duo has released their first official collaboration single 'Better With You' on 18 December 2020, ending the tough year of pandemic with a virtual hug to the listeners through their latest music.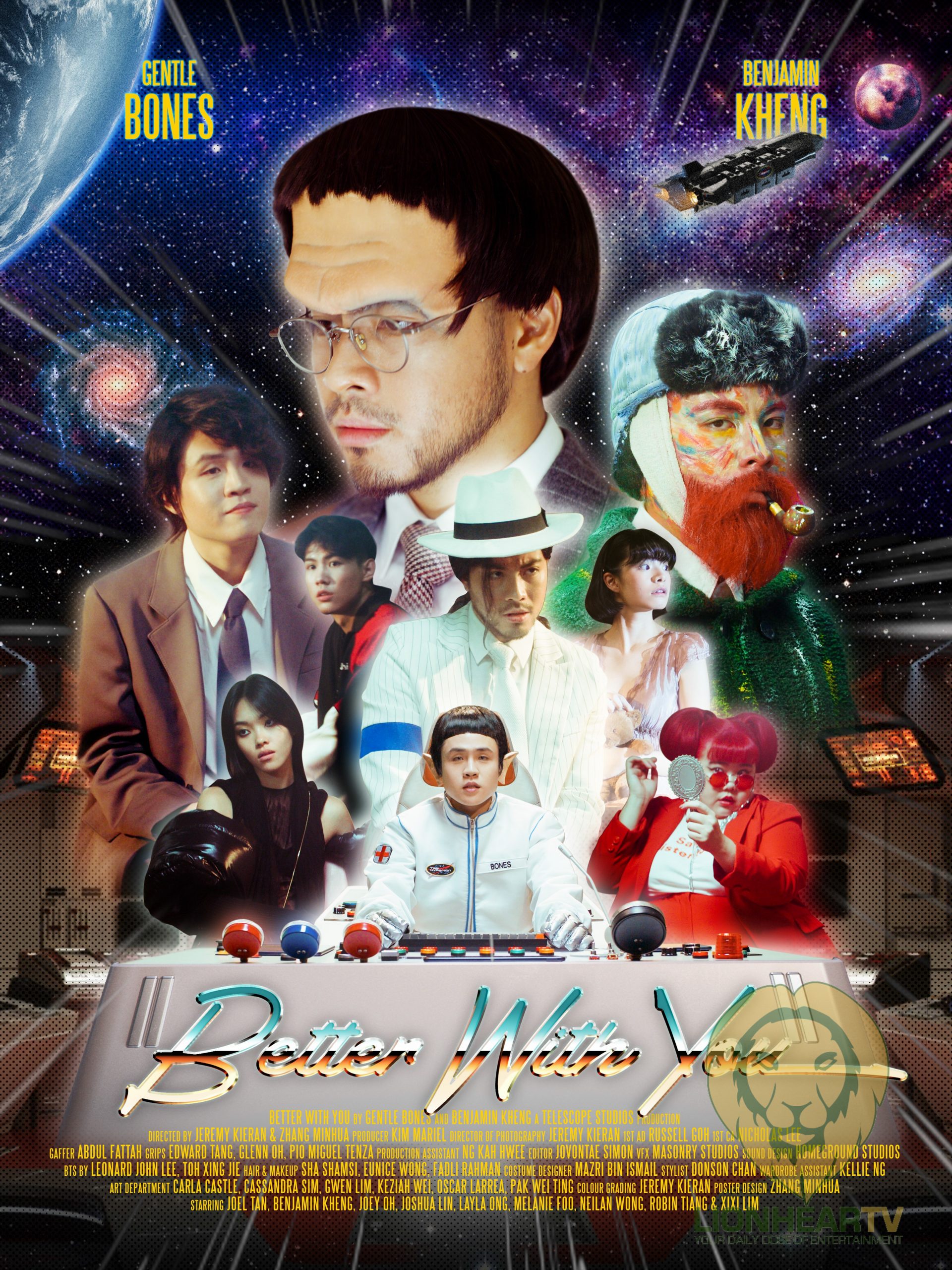 Upon hearing the announcement of the news, thousands of fans enthusiastically conveyed their excitement through posted comments on the stars' socials, much anticipation to their first official collaboration track together since their short youtube collaboration on Benjamin Kheng's Spoken Word project took place way back in 2016. This latest release from the duo successfully grabbed the headlines of the regional media outlets and simultaneously achieved outstanding results on the digital platforms. These remarkable achievements include topping the KKBOX international pop chart one day after the official release, attaining more than 600K streams within a month of release on Spotify and emerging as top 20 alongside international acts such as BTS, BLACKPINK, Crowd Lu on RIAS (Recording Industry Association Singapore) regional streaming chart.
Fans will get to see both stars transform into various iconic characters, ranging from classic movie characters to artistic icons of different eras in the upcoming music video, striking a familiar chord with the audience.
Unleashing the acting spirits
Gentle Bones and Benjamin to play various roles that y ou might see in your daily lives in latest music video
Onboard starship TSS Hyperion, Captain Bones (played by Gentle Bones) don on a space suit, is on a mission to rescue troubled people on a tiny planet called Earth "whose history is riddled with pain and strife".
The music video flashed an ensemble of troubled individuals sharing their woes at a group therapy session conducted by the therapist, played by Gentle Bones. Alluding to iconic pop culture characters, Benjamin Kheng plays various roles – a misunderstood monster (Frankie), a lonely pop-star (Michael) and a depressed artist (Ben Gogh). This can indirectly convey the parallels of Benjamin's identity being a prominent figure in Singapore, with his pursuits in acting, music and hosting.
Gentle Bones and team had worked closely with both local and international productions to produce the music video, from gathering their creative inputs to conceptualising the theme of the music video, to overseeing the overall artistic direction. The roles are specially selected to portray the image of having a fun and glamorous life on the surface, which also comes with its fair share of ridiculously high expectations from externalities and subsequent hidden struggles. Gentle Bones elaborated on his thoughts: "The lovely thing about this music video is that it can be interpreted in many different ways. How I see it is a traversing of parallel realities whilst similar storylines are taking place at the same time, the beauty of seeing light in darkness."
The stars also shared their behind-the-scenes thoughts about the music video. Gentle Bones shared, "My favourite role is Captain bones for sure! A great honour playing the role of the leader of an intergalactic space force travelling the universe and helping individuals of different species who need our help."
Benjamin added, "Ben Gogh was probably the most fun, being in that incredible set that the team built. Every inch was an impressionist painting, from my clothes rack, to my shoes. I was still getting touched up after 3 hours. The team spared no detail; it was a really incredible feat. I have none to complain about, although it is fun to peel off prosthetic after a 20hour shoot!"
Comments