After Luis Manzano and Jessy Mendiola tied the knot, expect another celebrity wedding from Ellen Adarna and Derek Ramsay, who recently revealed they plan to get married within the year.
"We talked about it and wala pang final plans. But it's this year," Adarna revealed in an interview with writer and entertainment columnist G3 San Diego on her YouTube show Live With G3 on Monday, April 5.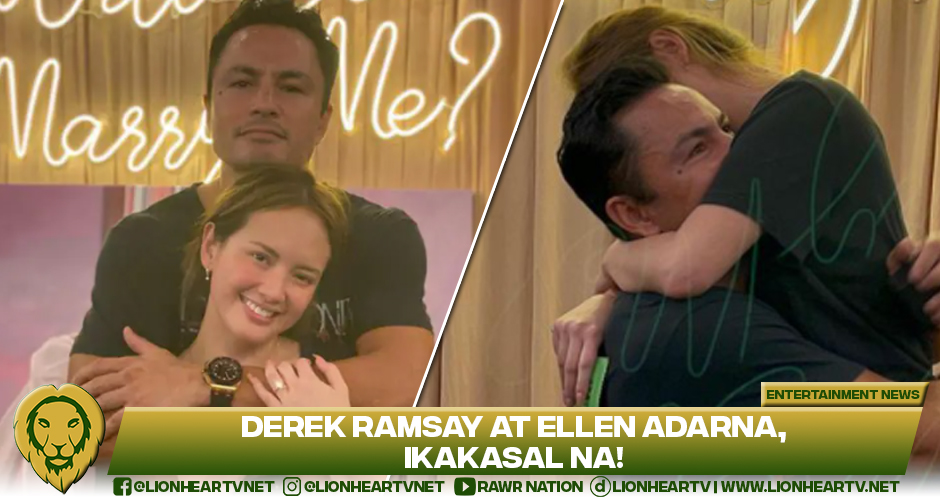 After surprising everyone with their engagement on March 30, Adarna and Ramsay are finally making their marriage happen.
When asked whether they intend to tie the knot while in quarantine or wait until after the pandemic, the celebrity couple confirmed, echoing each other, "This year."
Ironically, the 33-year-old actress admitted that she never planned or wanted to settle down.
She certainly surprised her elementary and high school friends how she finally changed her mind about marrying.
"I never planned. I never wanted to get married. Honestly, my elementary friends, my high school friends are messaging me na 'Oh my God! I can't believe you're getting married. High school pa lang ayaw mo na magpakasal.' So, today was the first day that I thought of my wedding," she shared.
However, the wedding they have in mind right now would not be a grand celebration.
When San Diego asked about their 'dream wedding,' Ramsay answered, "We're both on the same page kasi we don't really want that big grand wedding."
The 44-year-old actor also revealed that Adarna had initially planned to elope, but has since opted to have a simple but formal wedding.
"I told him my dream wedding. I just want to elope," Adarna quipped with a laugh.
"But I don't want a big wedding. I don't want to wear a gown. I don't want… you know, all that fancy whatever," she said.
When asked if she doesn't want to wear a gown on her wedding day, she answered, "No, I hate gowns.
The couple believed that it is more important to focus on the 'meaning of marriage' than on the wedding details
"So, we actually spoke this morning. Parang meron na kaming naisip and I thought about it. 'Like you know what? The purpose of this is just I want to marry you. I'm not going to marry you because I want to wear a gown or I want people to look at me like I'm the most beautiful bride in the world' – that's not the point," Adarna said.
She added, "So yeah, just expect a very simple wedding."
Though the newly engaged couple revealed that their wedding would take place this year, they have not yet shared any details about the wedding.
On January 11, Netizens first noticed Adarna and Ramsay's photos and videos on Instagram, posted by actress Ruffa Gutierrez. The three celebrities were part of a big group that included Adarna's new sitcom co-star John Estrada, who was also present at the dinner party.
The two were spotted together again the following month despite downplaying the dinner party in January. It was when they went on a road trip with Adarna's son with actor John Lloyd Cruz, Elias Modesto.
Ramsay and Adarna also previously shared similar snaps from their Batangas vacation in January.
On February 24, the eventual couple seemed to be fanning the flames of romantic rumors linking them as they posted sweet images together.
Their sweet snaps came just days after one of Ramsay's close friends said that the actor is "in love" with Adarna in a series of Instagram updates that went viral.
The actor eventually confessed to having a crush on Adarna on February 26. It was also the same day when they revealed in an interview with PEP.ph that they are in a relationship. They also admitted that they have dated for a month.
Ramsay talked for the first time in detail about his new relationship with Adarna in an interview with Mega Magazine, released on March 1.
He revealed that he had already gone out on a blind date with Adarna before the controversial dinner party in January that sparked the rumors linking them. He also described his attraction to Adarna as a "chemical reaction."
He had just broken up with his one-year girlfriend, actress Andrea Torres in November 2020. He said that falling in love with Adarna a few months later "super blindsided" him.
The couple marked their first monthsary on March 4, as they recently revealed during their interview with San Diego that they become official on February 4.
On March 30, Adarna surprised her Instagram followers as she posted a series of photos of Ramsay's proposal with the caption "Game Over" and flaunted her engagement ring.