Actor Robin Padilla withdraws from his challenge after Philippine Army Col. Mike Logico accepted it.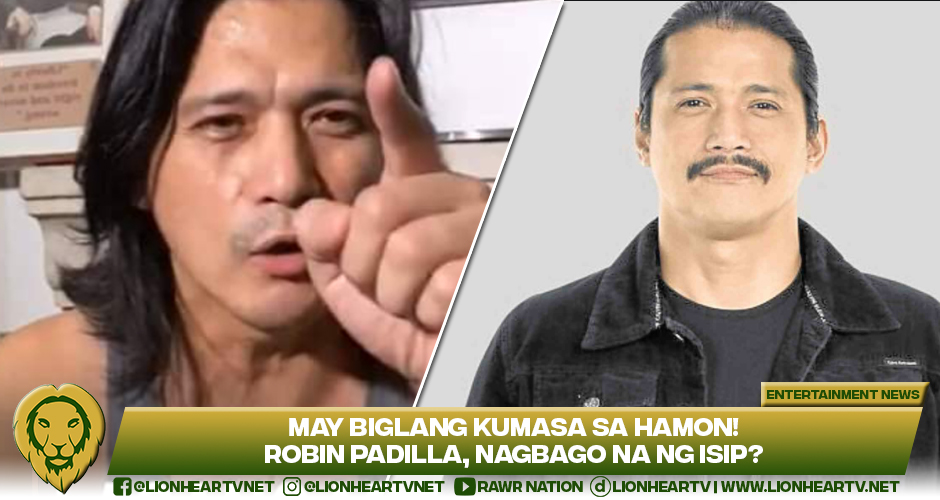 In his recent facebook video, Padilla called out the opposition, including Senators Francis Pangilinan and Risa Hontiveros, retired Supreme Court Associate Justice Antonio Carpio and musician Jim Paredes for their opinions regarding the territorial dispute at the West Philippine Sea.
To prove their bravery, he dared them to join him and form a militia to face the Chinese fishing and militia vessels in the area.
"Tutal napakadaming matapang. Naririnig mo. Eto may mga politiko. Si Senator Kiko Pangilinan, ex-Justice (Antonio) Carpio, Jim Paredes, Senator (Risa) Hontiveros, si idol, si 10,000 hours Senator (Ping) Lacson.
"May mga iba artista pa at singers. Eh, kung talaga pong matapang kayo, eh, sumama kayo sa akin. Tayo ay maging militia. Tapatan natin yung militia nung mga Chinese.
"Pumunta tayo doon, lumayag tayo, mangisda tayo doon. Tumambay din tayo roon kasi atin eto," he said arrogantly.
The actor believes that this kind of argument during the pandemic is futile so, they should join the militia to counter the Chinese presence if they are brave.
"Ang kailangan natin militia doon. Ang kailangan natin, tumambay din tayo doon.
"Ngayon nyo sabihin sa akin yan, kaya nyong magsakripisyo para sa teritoryo natin." he added.
Padilla then assured them that his offer is serious.
"Talaga pong pag nagsalita kayo, ako'y ninenerbiyos, eh, sabi ko, katatapang nito, eh doon na natin ilabas ang tapang natin," sarcastically stated.
Netizens slammed Robin for this insolent dare.
https://twitter.com/teta_limcangco/status/1386676679410548744
https://twitter.com/MaamSyj/status/1386822345889763328?s=20
https://twitter.com/pauloMDtweets/status/1386152042704498689?s=20
BALIKTAD NA PO ANG GANAP OH MY GOD ROBIN PADILLA PARA SA IMPYERNO YUP YUP PURR https://t.co/K6RsU9j9AG

— ; (@laleliloluii) April 27, 2021
So what Robin Padilla is suggesting that we form a militia navy and sail to the WPS without any training or preparation is basically a suicide mission. And this, people, is the hallmark of Duterte's gov't. Bara-bara lang, walang isip-isip, kaya nagkanda-leche leche ang Pilipinas.

— Gerry Cacanindin (@GerryCacanindin) April 26, 2021
congratulations robin padilla for being a national embarassment ❤️

— magindara (@maka_dagat) April 27, 2021
Robin Padilla acting like it's still 1988

— Lakan Kildap (@Lakan_Kildap) April 25, 2021
Robin Padilla, ang pangit mo na ngang umacting, ang bobo mo pa. Grabe talaga ang todo pa sipsip mo sa gobyerno? Wala kanang ibang source of income sir at nangangarap ka ng makalikom ng govt post? https://t.co/rMziQEcmCp

— Marco (@MarcoCaay) April 27, 2021
Robin Padilla bakit ba kasi kung sino-sino pa ang niyayaya mong pumunta ng WPS? Kung talagang matapang ka bakit hindi mo gawin mag-isa mo? Or better yet, yayain mo ang poon mo mag jetski kayo papunta doon. Wag yang parehas kayong puro kayabangan, biglang "joke" lang pla. Sus!

— rina david (@kdavid3170) April 27, 2021
Though Robin expressed his will to protect the armed forces, Army Col. Logico accepted the challenge, but he has few instructions for Robin before proceeding.
Logico advised the actor to get a haircut first then, apply for a Master in National Security Administration (MNSA), where he will be Padilla's mentor, and proceed to Command and General Staff College (CGSC), the third step.
"If you make it past step 3, you will have the minimum competency to become an RCDG (Regional Community Defense Group) Commander. That will put you in a better position to challenge," Logico firmly wrote.
After those comments of Logico, Padilla backed out and apologized to the Colonel.
He expressed his respect to the Colonel and admitted that he wished to be a highly trained officer like Logico.
"I apologize if in any way I offended you with my video. Sir, it's too late for me to dream and become a highly trained officer like you. If destiny allows it I will just see you there in the high seas, not as a foe but a civilian ally…" Padilla said.
Padilla's 'fake' bravery took him nowhere.
He remained untrue to his words and backed out after a high-ranking official took upon his challenge.
https://twitter.com/yemi1588/status/1386627404718698496?s=20
Robin Padilla wants to form Philippine maritime militia. Calls on Pinoys to join. Col. Mike Logico calls his bluff. Game on daw. Robin is a Reserve Captain. Col. Logico is a CO of the AFP. Game daw, Robin. Report ka na kay Col. Logico. pic.twitter.com/LXhuccwbgt

— Gerry Cacanindin (@GerryCacanindin) April 25, 2021
Mr. Robin Padilla still living with his action star delusion. 🤪

Duwag naman pala. 🤡 https://t.co/74KfPpeuQQ

— k a i 🙃 (@kaimayalltheway) April 27, 2021
Robin Padilla tapang-tapangan wala namang bayag! Kunyari makabayan, mga anak pinanganak sa ibang bansa! Tang ina mo gago robin padilla walang bayag, puti itlog (fellow ilonggos will know this) pic.twitter.com/XZchdxcZG4

— Michael R. L. Mones (@mykeloves2drink) April 27, 2021
Lt kay Robin Padilla, tinitrigger yung AFP colonel. Masyadong himod-pwet kay Du30 kairita. Hahaha.

— Silene Oliveira (@duedatexxiv) April 27, 2021
Namataan mga "bumbero" papunta sa bahay ng Isang DDS na artista. 😂😂😂 pic.twitter.com/Yj887eeyNI

— PinoyAkoBlog (@PinoyAkoBlog) April 26, 2021
Comments