RAMENGVRL, one of South East Asia's most dominant hip-hop figures, releases her audacious new single "I'm Ugly" – out on Asiatic Records via Warner Music.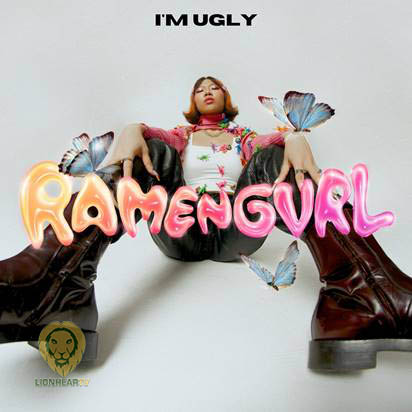 Raised in the suburbs of one of the busiest cities in the world, RAMENGVRL is not your average rapper, but with a perfected blend of her unique style and infectious rhymes, she has positioned herself as one of the region's brightest musical minds – which she further demonstrates with "I'm Ugly".
In classic RAMENGVRL fashion, "I'm Ugly" hears the acclaimed Indonesian rap star shut down criticisms on her appearance via self-assured proclamations of her greatness, to prove that nobody can bring her down: "Yes I be ugly and yes you be pretty / but I be evolving and you haters stuck."
Produced by eccentric Korean-based UK beatmaker ROMderful (TOBi, Duckwrth, Jean Deaux), "I'm Ugly" fuses UK hip hop and grime-influenced rhythms with RAMENGVRL's characteristic swagger and charisma. Combining dark piano chords with intergalactic synth sounds and a hard-hitting trap beat, the Forbes 30 Under 30 artist proves once again that she is the queen of hooks: "These bitches say I'm ugly / but it's ok I got money," RAMENGVRL declares on the insanely catchy track.
As with all of RAMENGVRL's music, "I'm Ugly" is further symbolized by an undeniably imaginative and quirky music video. With a signature plot twist at the end, the "I'm Ugly" music video documents the lengthy and soul-destroying moments of the editing process of a beauty campaign, envisioning RAMENGVRL undergoing significant editing processes in an attempt to mould into the societal 'standard' of beauty.
With a star-studded cast of Asian celebrities making cameo appearances to bring RAMENGVRL's vision to life (including hotshot Korean rapper Queen WA$ABII, rising Thai rapper Tsunari and enigmatic Singaporean electronic artist Jasmine Sokko), the music video's message criticizes unhealthy global obsessions of achieving a universal standard of beauty, which can lead to a loss of one's identity, as well as increasing pressures to achieve these looks by undergoing extreme surgeries: "I'm bringing some of my friends (who are all baddies, respectfully) and they're giving realness, they're giving beauté but also comedy. What I want people to understand is that, if people say you're ugly or they're commenting on your body, your face or whatever, f*ck them. Coz look at us! We get comments like that any time of the week but we still get our bags, we serving looks, we laugh it off, we had fun. None of those standards matter," RAMENGVRL explained of the video's concept.
Speaking about "I'm Ugly", RAMENGVRL shared: This song is about shutting down people who like to bring us down by telling us we're ugly or we're not up to societies standards, but lemme tell you something: if you're in your bag and you're killing the game, then you ain't ugly. IN FACT, I'd much rather be ugly with a Prada bag than be pretty with a lotta debt – perioooood! This song is for all the "ugly b*tches" out there, who might not fit society's standards of "beauty", but are super confident, securing the bag and basically killin' it in their own way.
"I'm Ugly" is the hotly anticipated follow-up to RAMENGVRL's critically acclaimed November 2020 debut album Can't Speak English; addressing racist stereotypes towards Asians with the tongue-in-cheek title, Can't Speak English propelled RAMENGVRL to a new global audience thanks to her raw storytelling, quirky bars and captivating production.
Through her eccentrically bold fashion looks and controversial tracks like "Look at Me Now" and "CA$HMERE", the award-winning artist has amassed more than 40M+ streams for her gem-filled discography and earned a plethora of tastemaker support from the likes of VICE, DAZED, NME, WONDERLAND, CLASH, THE FACE, CNN, THE LINE OF BEST FIT, NUMERÓ, 1883, VINGT-SEPT, EUPHORIA alongside key editorial support across DSPs.
Proving herself as a culturally relevant artist on the brink of global mainstream consciousness, RAMENGVRL's single "I AM ME" was synced in the videogame Need for Speed Heat in conjunction with brand partnerships for heavyweight names including Samsung, Porsche, Netflix, Nike and Lacoste.
Raised by a conservative family in Indonesia, RAMENGVRL's forward-thinking style has made her an unlikely candidate to become one of Asia's foremost hip-hop artists – yet RAMENGVRL's artistic risks continue to pay off, breaking through Asia's music scene towards international domination. Using her platform to challenge the conservatism she grew up in, RAMENGVRL's rebellious spirit encourages listeners across Indonesia and beyond to find the bravery to do what they want to do and be who they want to be.
On the cusp of greatness and igniting a cultural revolution, "I'm Ugly" marks a daring new chapter in RAMENGVRL's career following a major new deal with Warner Music – expect plenty more promised to come from this explosive talent.
RAMENGVRL "I'm Ugly" – Full Cameo List:
6gdam (Korea)
Airliftz (Malaysia)
Bohan Phoenix (China, US)
Cindercella (Indonesia)
Dodi (Indonesia)
Hosea (Taiwan)
Imwillyxx (Indonesia)
Jasmine Sokko (Singapore)
Jebung (Indonesia)
Jinan Laetitia (Indonesia)
LOCA B (Malaysia)
Luna Is a Bep (Hong Kong)
Melisa Putri (Indonesia)
Mindy (Indonesia)
Naura Ayu (Indonesia)
Ojemo (Indonesia)
Paul Pablo (Philippines)
Queen WA$ABII (Korea)
Rahmania Astrinia (Indonesia)
ROMderful (South Korea / UK)
SailorMoney (Indonesia)
SILVY (Thailand)
Tsunari (Thailand)
Yurida Hanani (Indonesia)