On November 30, Secretary-General of Concerned Artists of the Philippines Lisa Ito discussed the effects of censorship and red-tagging during the talkback with the filmmakers of Walang Kasarian Ang Digmang Bayan.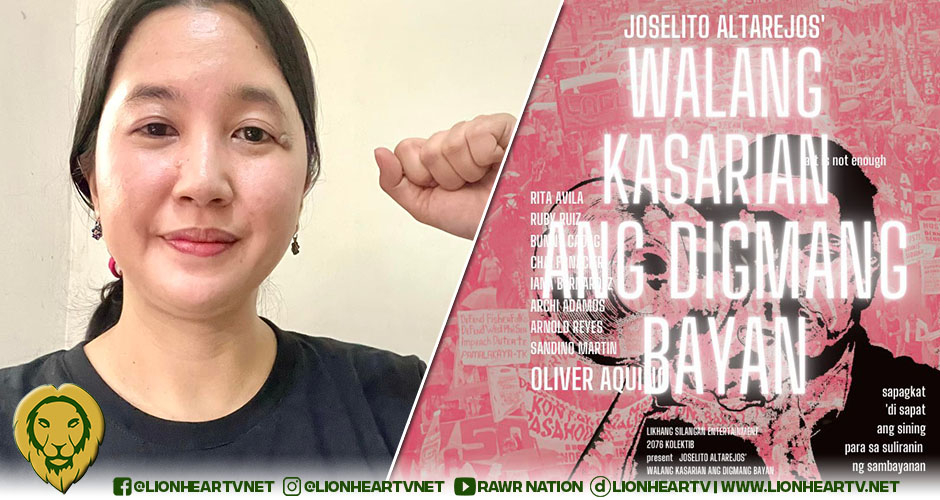 Ito admitted having apprehensions in discussing art and revolution because of the current situation.
"Napaka-angkop ito na araw para sa isang screening at talkback para sa pelikulang tulad nito. Araw ito ng isang mahalagang pangalan sa kasaysayan ng digmang bayan. Napaka-angkop na pag-usapan natin ang tema ng art revolution. 
"When I was invited to speak about this–[I was] happy, happy ito, the theme of art and revolution. Pero scary rin dahil sa kalagayan natin ngayon. But I realized that this was the chilling effect of censorship and red-tagging that we see today, and all the more, we must be talking about this."
She then cited examples of national revolutionists who were also artists.
"What better way to tell these stories from below but through art? At kung iisipin natin, our revolutionaries through out histories, our Philippine revolutionaries, many were artists. 
"Jose Rizal was not only a doctor but also a novelist–and he was killed for that. Andres Bonifacio was a cultural worker–active sa theater. National artist and labor leader Amado V Hernandez was a poet. Jose Mari Sison, an English professor and a poet, as well as a revolutionary."
She then noted the role of artistic expression in Philippine society.
"Therefore 'yung history natin ng revolution can teach us many things, pero isa sa mga mahalagang tanong na lagi nitong nabi-bring or napu-put forward. Whether in 1917 or today, is 'yung question na, what role or purpose does artistic expression have in our society."
She then called out the usage and association of words such as revolutionary and party to justify terrorizing Filipino citizens.
"There are many keywords, which are [being] used to justify the same state of force and terror and terrorism against many Filipinos. The keywords–words like revolutionary, komo rebolusyonaryo, papatayin na, or terrorista na. 
"'Yung salitang party, movement people. Siguro isaisahin natin at balikan natin, because which must not be normalized as expressions of terror. Kasi, these are a whole part of how our society is trying to change for the better."
Aside from being the secretary-general of Concerned Artists of the Philippines, Ito is also a faculty member of the University of the Philippines Diliman, Department of Theory, College of Fine Arts.
As for the progressive film directed by Jay Altarejos, Walang Kasarian Ang Digmang Bayan premiered on November 30 via KTX.PH . The progressive LGBTQIA+ film stars Oliver Aquino, Rita Avila, Ruby Ruiz, Chai Fonacier, Iana Bernardez, Bunny Cadag, Archi Adamos, Arnold Reyes, and Sandino Martin.
Comments