Nostalgia is in the air as the Final Five of the Adult and Teen editions took a trip down memory lane to relive their experiences inside the "PBB" house in the "PBB Kumunity Season 10" Homecoming Special.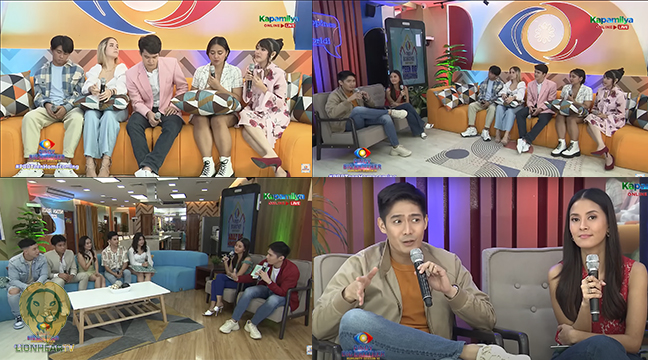 Isabel Laohoo, Nathan Juane, Zach Guerrero, Michael Ver Comaling, and Seham Daghlas of the Adult Edition, as well as Rob Blackburn, Stephanie Jordan, Gabb Skribikin, Maxine Trinidad, and Paolo Alcantara of the Teen Edition couldn't help but laugh at some of the memories they had together in their 'throwback' chat with Bianca Gonzalez and Robi Domingo.
In the homecoming special episodes that aired in the past two weekends, Bianca and Robi asked the housemates about the highlights that unfolded in the show's 10th season, including the intense confrontation among the adult housemates and house player Marky Miranda, who was tasked to make tensions rise inside the house.
According to the Adult Final Five, they are on good terms with Marky now that they are all outside of the "PBB" house.
"Okay na. You have to know how to move on. As for me, I don't know for others, but I don't dwell on problems or negative things for too long," "PBB Kumunity Season 10" 2nd placer Isabel said.
The Adult Final Five also shared that Marky is always part of their bonding moments in the outside world together with the rest of the adult housemates.
Meanwhile, Bianca and Robi also brought up the viral 'majoha' moment of the teen housemates. Gabb, who was the one who answered 'majoha' instead of GomBurZa, said that she saw the negative comments of netizens because of her wrong answer in the history quiz.
"It's okay para sa akin to make mistakes, pero siyempre you have to learn from it and not do the same mistakes ever again. Happy naman po ako kasi nag-improve po ako at may natutunan po ako dahil sa incident na iyon," she explained.
True enough, Gabb even proved herself again as she won the history quiz bee about the events during the Teen Edition.
The Adult and Teen housemates also couldn't help but laugh at the "PBB Kumunity" hosts who reenacted some of their unforgettable moments in Big Brother's house.
Don't miss the fun and excitement as Anji Salvacion, Samantha Bernardo, Brenda Mage, Madam Inutz, and Alyssa Valdez of the Celebrity Final Five return inside the house to chat with Bianca and Robi in the "PBB Celebrity Homecoming" episode this Saturday and Sunday (June 18 and 19) on Kapamilya Channel, Kapamilya Online Live, Jeepney TV, iWantTFC, and A2Z.
For more news, follow @ABSCBNPR on Facebook, Twitter, Instagram, and Tiktok or visit www.abs-cbn.com/newsroom.
Comments