Katips stars Jerome Ponce and Sachzna were seen watching its rival film Maid in Malacanang.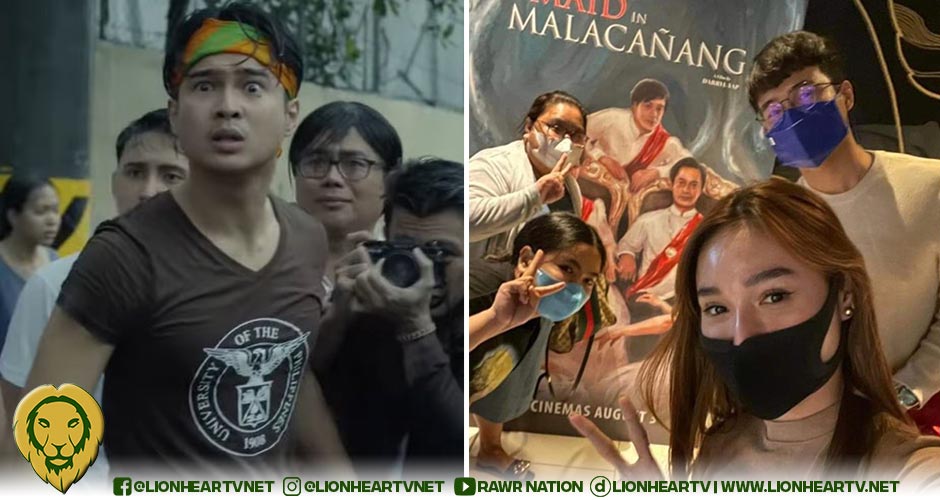 On August 5, Christine Policarpio (mother of Sachzna) proudly shared a Facebook photo with her daughter and Jerome Ponce after watching MiM.
In the post, she praised the movie and its director Darryl Yap and thanked her daughter Sachzna and Jerome for accompanying her.
"Iyak tawa! Sobrang ganda ng MiM wala akong masabi sa Darryl Yap namaga ang mata ko at grabe yung totoong MGA MAID SILA ANG TOTOONG BIDA! Bidang bida hahaha! And of course thank you Joseph Jerome Porciuncula sa pag sama."
The post was then reposted by MiM director Yap on his own Facebook account, thanking the 2 Katips stars for watching his movie.
"Salamat sa panonood Sachzna Laparan at Jerome Ponce, parehas artista sa pelikulang katips.#MAIDinMALACAÑANG DAY 3″
Katips and Maid in Malacanang started its showing on Wednesday, August 3.
While MiM boasted of its opening gross ticket sales of 21 million pesos, Katips lead actor-director and producer Atty. Vince Tanada shared in jest that their opening day box office results reached 41.8 million.