ABS-CBN News chief Regina "Ging" Reyes has been recognized for her outstanding work as a news leader by the World Association of News Publishers (WAN-IFRA) during the 2022 World News Media Congress in Zaragoza, Spain.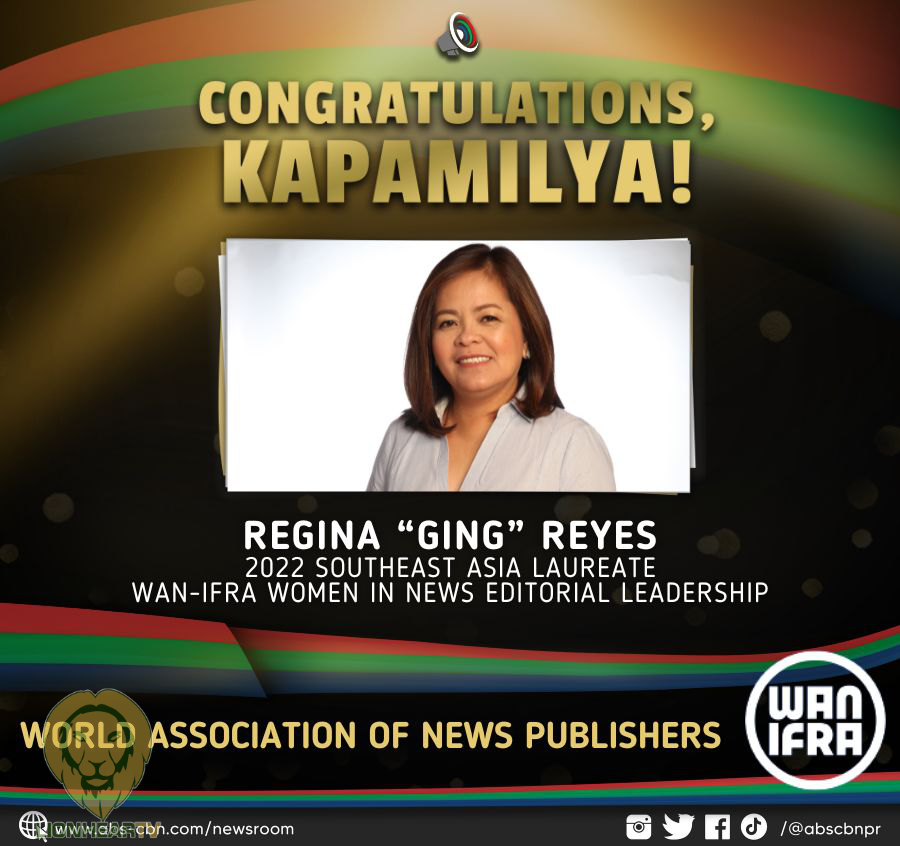 Ging was named as the 2022 Southeast Asia Laureate for Women in News Editorial Leadership, which recognizes "the exemplary contribution of a leader to her newsroom, and under her leadership, her media organization's contribution to society."
In her acceptance speech, Ging paid tribute to her colleagues in ABS-CBN News and highlighted the importance of press freedom.
"I am deeply moved and humbled to receive this recognition on behalf of my entire news team, especially the women in our newsroom and in the field. They are at the forefront of our battle to defend media freedom in our country and preserve the values of our profession. And I am only here because of their collective hard work and sacrifice," she said.
Ging is the longest-serving news chief of ABS-CBN News. Before holding the post, she served as the company's North America Bureau chief from 2022 until 2010.
She started her career in ABS-CBN as a production assistant and climbed the ranks, eventually becoming the executive producer of "The World Tonight," the country's longest running newscast.
Under Ging's leadership, ABS-CBN News shifted to digital and it began its multiplatform reporting. She also mentored many news producers and journalists.
WAN-IFRA names one exceptional editorial leader from Southeast Asia, Africa, and the Arab Region annually. It aims to uphold the rights of journalists worldwide. WAN-IFRA members come from different news organizations from 120 countries.
For more ABS-CBN updates, follow @ABSCBNPR on Facebook, Twitter, Instagram, and TikTok or visit www.abs-cbn.com/newsroom.
Comments