It's easy to define Vice Ganda's phenomenal success by his streak of box-office hits, alone. However, he has other moments too, albeit small, that make his journey towards who he is today– utterly inspiring.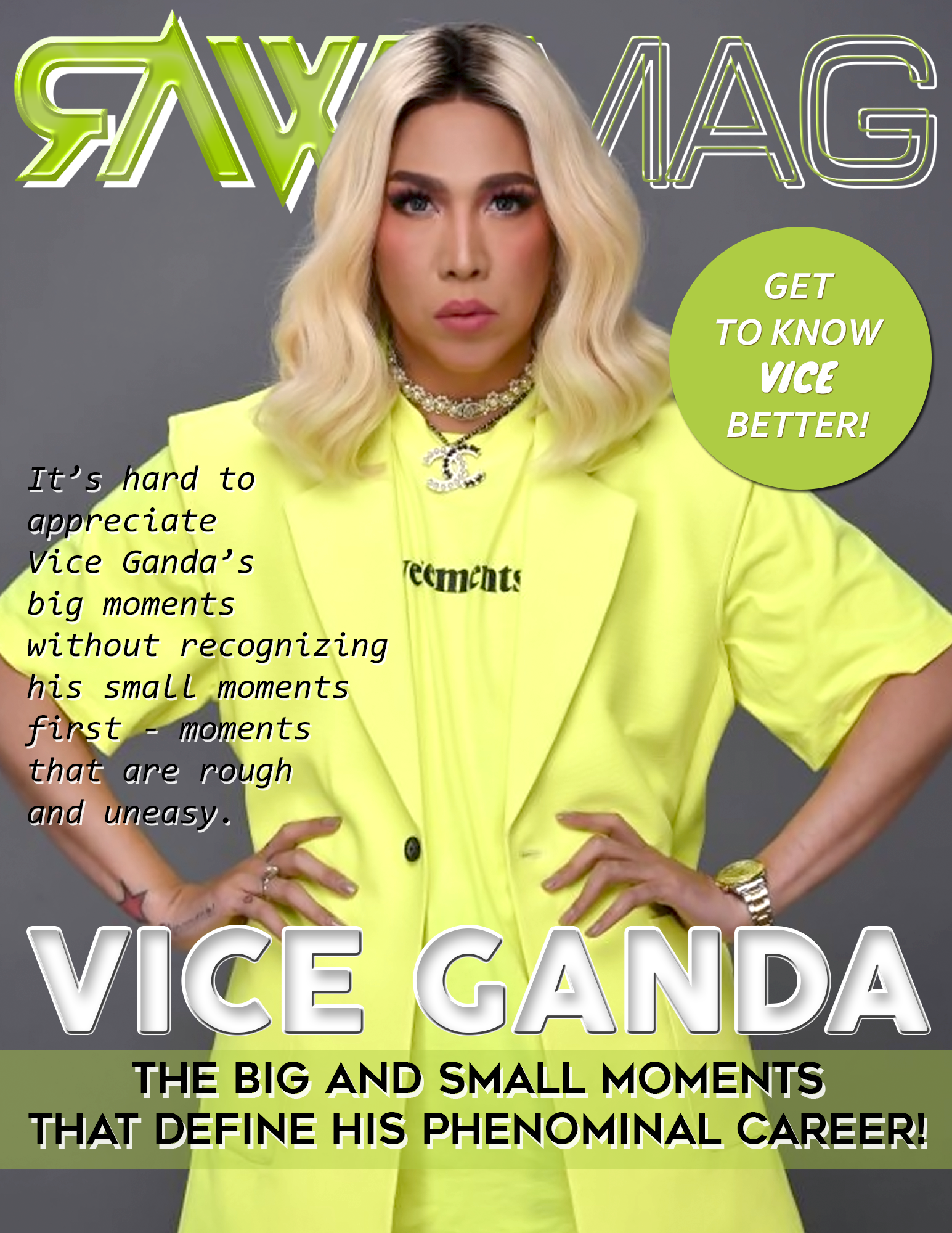 Becoming who is now isn't an overnight undertaking for Jose Marie Viceral, or Vice Ganda. He had to go through immeasurable failures first, before finally getting his spotlight in show business. Already in the industry for many years, her career made the significant pace, not until 2009, when ABS-CBN's noontime show, It's Showtime, debuted, on-air. 
A natural comedian, Viceral had his incredible comedic timing and skills for him to make his way to success, but he had equally—if not more—talented contemporaries, too, to make the task standing out, much harder. 
Through patience, and with the help of It's Showtime—which later on proved to be a formidable noontime challenger—he slowly ascended, and as they say, the rest is history.
It's hard to appreciate Vice Ganda's big moments without recognizing his small moments, first—moments that are rough and uneasy. And like most superstars, the moments he spent on and off the screen, are what makes his journey, breathtakingly incredible.
That Moment He Became It's Showtime's Non-evictable 'Hurado'.
The noontime It's Showtime surely has made magical wonders for Vice Ganda's career. It has undoubtedly opened big opportunities that enabled the comedian to explore multimedia platforms, including recording and movies. 
It's important to note, however, that it's arguably his impressive observational comedy and situational irony jokes that made him a household name. Seemingly, never running out of comedic banters, Viceral's viral gimmicks as the non-evictable judge is undoubtedly one of the biggest reasons why the show inevitably took off, in the ratings' battle.
The Moment He Had His First Solo-Starring Box-Office Hit!
Following his viral judging stint on the noontime show, It's Showtime, and the show's incredible success in ratings, Viceral was given his first starring role in a movie. Petrang Kabayo, opened in cinemas, on October 13, 2010, or nearly a year after It's Showtime premiered on ABS-CBN. 
A certified commercial success, the Viva Films film completed its theatrical run with more than Php 100 million box-office gross receipts.
That Moment His Film Topped the Local Box-Office For Seven-Straight Years.
If topping the local box-office for seven straight years does not prove Vice Ganda is not a phenomenal box-office star, then nothing else will. 
Surely, having one box-office hit in your entire career is pure bliss, but getting one record-breaking film, year after year is a miracle.
Following Praybeyt Benjamin, which was 2011's highest-grossing film, Vice Ganda continued to break his records with record-setting films, in the following years. 
The comedian was also named the Phenomenal Box-Office Star, five times in a row, which declares, in a screaming manner, that he is indeed a phenomenal box-office star.
That Moment When He Met The Love of His Life.
Surely most of us remember that magical first time Vice Ganda laid eyes on Ion Perez, on the noontime show, It's Showtime. 
While that, wasn't the first time Vice met Ion, in person (as it was revealed they first met in Gandang Gabi, Vice), to us viewers, that moment was the beginning of something magical that we would later on witness every day, on our television sets.
Like Vice Ganda, we solemnly pray that this love would last forever, enough for Vice, and for the rest of us to be convinced that true love, really exists.
Those Moments He Helped Random Strangers in Any Way.
Viewers of his shows are everyday witnesses to his generosity and compassion, to people who he believes to be deserving of his help. 
How many times did we see him hand a contestant, or even a studio audience, cash? 
It's Showtime has always been a place for beautiful and inspiring stories to be told, and when Vice Ganda learns one of them, he immediately rewards the person owning those stories, with the help he could provide, like that one time when he filled the wallet of a TNT contestant with thousands-worth of paper bills.
Recently, a VERSUS contestant was able to take home four pairs of branded shoes because he recognizes great talents that deserve a reward. There's also this Vlog which documented Vice and his gang pranking an old cab driver to drive them around Quezon City, and after hearing a few good stories, rewarded the man with money. There are also several documentations of him treating kids to shopping sprees and extravagant restaurants, all because he remembers how it feels to be a kid, and how it feels when you know you are loved and taken care of.
That Moment When He Affirmed His Loyalty to ABS-CBN.
After ABS-CBN's shutdown, his home Network spread its doors open for talents to have the freedom to explore opportunities in other venues. Many big stars, including homegrown talents, left the company after that. But Vice Ganda, who could easily continue his success outside ABS-CBN decided to stay. 
Like his fellow Kapamilya stars who braved to stay with their home Network, regardless of its now limited reach and capacity, Vice found pride in remaining with ABS-CBN–making him one of the few big stars who kept their confidence in ABS-CBN that it will soon fully recuperate, and return to its former glory.
As he turns 45 this year, Vice Ganda faces a challenge that may or may not take him away from the limelight. 
ABS-CBN is no longer the number one TV Station. 
It's Showtime is no longer the most-watched noontime show—at least on free TV, and may not be able to make another record-breaking film—no thanks to the pandemic. 
Yet, despite such uncertainties, like ABS-CBN, which continues today to push barriers, just so it could reach audiences with innovative and moment-defining programs, there is still a humongous possibility that he can still soar further. 
That isn't hard to believe now, especially we saw how both he and It's Showtime started from the bottom. When that happens, that moment will add another entry to his long list of monumental turns in his stellar showbiz career.
Comments