Celebrities backed Vice Ganda, his boyfriend Ion Perez, and Awra Briguela against 'influencers' Buknoy Glamurrr and Gabo.
Buknoy and Gabo's fellow Star Image artist Petite expressed disappointment in their rude act of the two.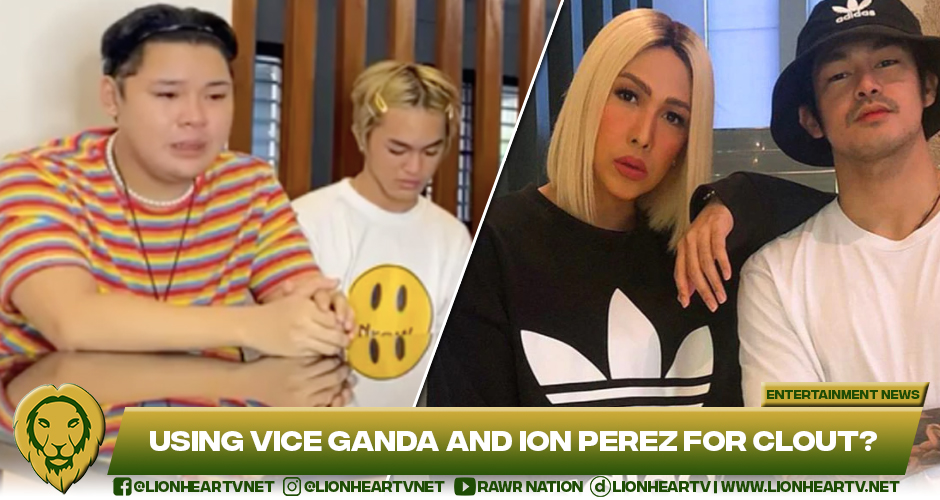 Petite said that he has huge respect for Vice Ganda who has been kind to him. The comedian also believes that Buknoy and Gabo should have given Vice and Ion the peace and happiness they deserve as a couple.
"Yung dalawang tao, masaya sa buhay. Huwag n'yong dautin.
"Unang-una, bakla kayo. Maging masaya na lang kayo. Hindi 'to papatulan ni Meme, kaso, sobrang foul! Sobrang foul!" Petite said.
The moment when Petite discovered the live video, he immediately contacted Gabo and reprimanded the influencer.
"Sana, maging lesson sa inyo 'to. Actually, si Gabo, tinawagan ko siya, 'Bakit may ganitong content?'
"Sabi ko, 'Hindi ka pa ba natututo sa unang pagkakamali? Mas mabigat 'tong ginawa mo. Saka nag-drop kayo ng names, nandamay kayo ng mga tao.'"
Petite is also dismayed that he cannot protect his management after the unacceptable act of Buknoy and Gabo.
"I feel sad para sa management. Kasi, walang natawa. Puro bash talaga. Puro bash.
"At hindi ko maipagtanggol yung management ko. Marami sa akin ang nag-message na, di ba, Star Image ka?"
The comedian also told Gabo that he should've guided Buknoy from doing such an act knowing that he is still minor. Petite reiterated that in whatever angle, their live video is wrong.
John Lapus throws shade by asking, "Who are Buknoy and Gabo, in the first place?"
Sorry. Sino sila? 🤔 https://t.co/G7d4nssaFP

— John Lapus (@KorekKaJohn) April 18, 2021
BL actor Alex Diaz advises Buknoy to take a break from social media considering his rude behavior. As the world is watching Buknoy's every move, Diaz believes that it may affect his mental health so, he should fix his attitude first.
It is not the first that Buknoy was involved in this kind of issue. He has been problematic ever since. His 'attitude' is his problem.
Buknoy pls take a break from social media. Fix what you need to fix and deal with the problems that keep manifesting as these negative behaviors. It takes a toll on your mental health when the world watches you fall but if you dont strive to be better ur only hurting urself more. https://t.co/ldYAkrWJpk

— △lexander The Great ♚ (@alexandermcdizz) April 18, 2021
Impersonator KaladKaren Davila reiterated her advice to Buknoy from last year. KaladKaren said that he must prioritize his studies more than anything else.
Also, he must be sincere with his apology and should learn from his mistakes.
Last year pa 'to… Pero same same, dear. Anuna https://t.co/it4aOzGpwC

— KaladKaren (@jervijervi) April 18, 2021
Inah Evans, Vice Ganda's talent, slammed the Star Image Artist Management for the ineffective disciplinary action that they gave to the two influencers.
He believes that the suspension and penalty are not enough.
Suspending them isn't the answer. As if may regular shows iyang mga iyan sa inyo. These are kids who are becoming more and more toxic because they are being designed to be that way. At nakakalungkot. Hindi nakakakagalit bagkus ay nakakaawa.

— Ate Dick (Inah Evans) (@_AteDick) April 18, 2021
Inah also pointed out that these influencers need guidance to avoid will repeating the same mistake.
Ang problematic niyo masyado. Kinukupkop niyo ang mga bata (at matanda) basta maraming followers tapos hindi niyo naman binibuild up to be responsible and better people. Kalat lang sila ng kalat. Kalat after kalat.

— Ate Dick (Inah Evans) (@_AteDick) April 18, 2021
The comedian also shared his experience with one of the management's executives, who threatened him. He believes that their bosses are leading by example, no wonder why their talents are also problematic.
I remember last year, one of Star Image Management managers threatened me. Lulumpuhin niya daw ako at ikakadena sa double deck ko. I still have the video. Sinasabi niya iyon habang nakalive siya at nandu'n ang mga batang talents niya.

Way to go to set up an example 'no?

— Ate Dick (Inah Evans) (@_AteDick) April 18, 2021
Star Image Artist management's priority is publicity, even if it means damaging their talents' reputation.
I am hoping for the better pa rin, lalo na for these kids. Imagine kapag lumaki iyang mga iyan na ganyan ang mind set. What a waste.

— Ate Dick (Inah Evans) (@_AteDick) April 18, 2021
YouTuber Zeinab Harake also slammed the two influencers for using other people to make a buzz online.
https://twitter.com/ZeinabHarake11/status/1383425242312306690?s=20
Awra also shared his side regarding the issue where he got dragged into the mess.
Pinaka ayoko sa lahat yung may nadadamay na ibang tao.

— AWRA (@AwraBriguelaaa) April 17, 2021
The young star said that he hates people who use others for their clout. He also believes that the rude act is slander. Buknoy and Gabo should be punished for it, according to him.
— AWRA (@AwraBriguelaaa) April 17, 2021
Considering the gravity of the issue, Vice Ganda said that he will take legal action on it.
The issue sparked because of a TikTok live video where Buknoy mimicked Awra in conversation with Gabo that dragged the couple Vice and Ion.
Their conversation mentioned that Awra is already a passé artist and that Ion is only after Vice's wealth. Buknoy also said that Ion loves Awra and they had a sexual encounter.
Comments