Manila City Mayor Francisco "Isko" Moreno Domagoso drew flak from Netizens and personalities after rushing to a mall without a face shield.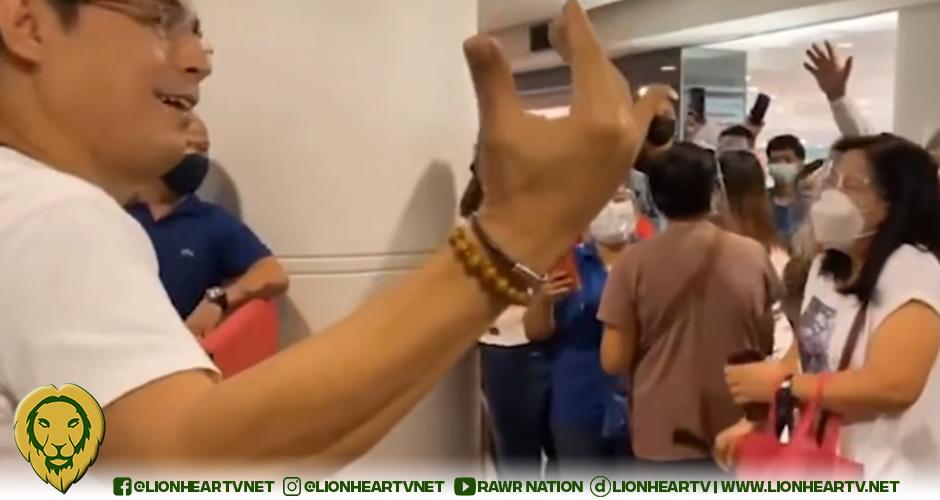 On Tuesday, June 22, Moreno was informed that those who were scheduled for today's Covid-19 vaccination did not appear.
As a result, the mayor urged the bystanders and mall-goers at the mall to be inoculated even without an appointment.
"Magsasawa kayo. Magpabakuna kayong lahat!" Moreno urged.
In his televised briefing, Moreno insisted that the public must not wait for a better brand of the Covid-19 vaccine. Thus, he is bringing back the open policy which makes every Manileños equal in status.
"We cannot keep on waiting. This must not go on. Kasi we are being unfair to others. Mas marami tayong mabakunahan, mas protektado ang pamilya niyo. Balik tayo sa open policy, pantay-pantay. Walang mahirap, walang middle class, walang mayaman."
But this initiative from the mayor drew criticism from Netizens and personalities after he was seen violating health protocols—i.e. not wearing a face shield and removing his face mask. His appearance at the vaccination site also caused a scene as bystanders and mall-goers did not maintain any social distancing at all.
A Twitter personality named Ryan was shocked by Moreno who violated several health protocols. The personality suggested that instead of Moreno personally urging those who were present in the commotion, he should have talked to the officials of the vaccination site.
https://twitter.com/rryyyaaaannnn/status/1407039593757786115?s=20
Others considered this move of Moreno as "showboating".
Pasikat ka yorme? https://t.co/pStV98o61E

— Pucahippo (@puchashrimps) June 22, 2021
A Twitter personality even mocked Moreno for showing his qualities as an effective leader and yet was the one who violated health protocols.
Lol "leader" na di marunong sumunod sa patakaran. Galing yorme!
https://t.co/jVzqF8KV9J

— The Nerdy Derma (@thenerdyderma) June 22, 2021
Some even considered the act of the mayor as a move done by a traditional politician (TraPo).
TRAPO! https://t.co/Ldfbx4MHSn

— Josh (@josheclarino) June 22, 2021
TRAPO https://t.co/PVxsn31d12

— Mojacko (@DaWinner_) June 22, 2021
Carlo Trinidad, a Twitter personality and a medical practitioner, even asked if the mayor paid for the violations that he committed as a result of his appearance in said mall. Meanwhile, jeepney drivers were being forced to pay fines after having minor infractions that were against health protocols.
Magkano multa sa kanya? Kapag mga jeepney drivers kinakaya niyo pero pag mga politiko tameme na.

— Carlo Trinidad, MD (@hellokidneyMD) June 22, 2021
A Netizen concluded that Moreno used his position to be above the law since he violated several health protocols and was not apprehended.
https://twitter.com/smolglovs/status/1407293165367750657
Journalist Raissa Robles also criticized Moreno for a "confusing" policy. Robles interviewed a senior resident of Manila and was told by barangay officials that there is no need for an appointment in getting a vaccine jab. However, Moreno, in his Facebook post has made it clear that there is an appointment system. Hence, Robles is searching for clarification about the policies ordered by the mayor.
Excuse me, sabi ng isang senior na residente ng Manila sa kin, pinagsabihan sya ng barangay wala ng skedyul skedyul. Ano ba talaga? Free for all? https://t.co/rbYcFMIyL6

— Raissa Robles (@raissawriter) June 22, 2021
In March, the enforcement of mandatory face masks and face shields was strictly implemented after a surge of Covid-19 cases were recorded.
A record-high 8,019 positive cases that same month prompted the Department of Interior and Local Government (DILG) to order the proper authorities to enforce further such health protocol. This is to increase the protection of the public against coronavirus and prevent it from spreading.
Violators will face appropriate penalties given by their respective Local Government Units (LGUs).