Now, in its second year on air, A2Z reaffirms its commitment to spreading the gospel and what Christmas stands for everyone.
A2Z's Christmas station ID for this year is short and sweet but never failed to provide inspiring messages that should keep every believer optimistic for the years to come. 
Yakapin ang Pag-asa ng Pasko stuffs messages about hope, faith, family, among others in a brief 138 seconds, featuring the inviting voices of Jeremy Glinoga and FANA.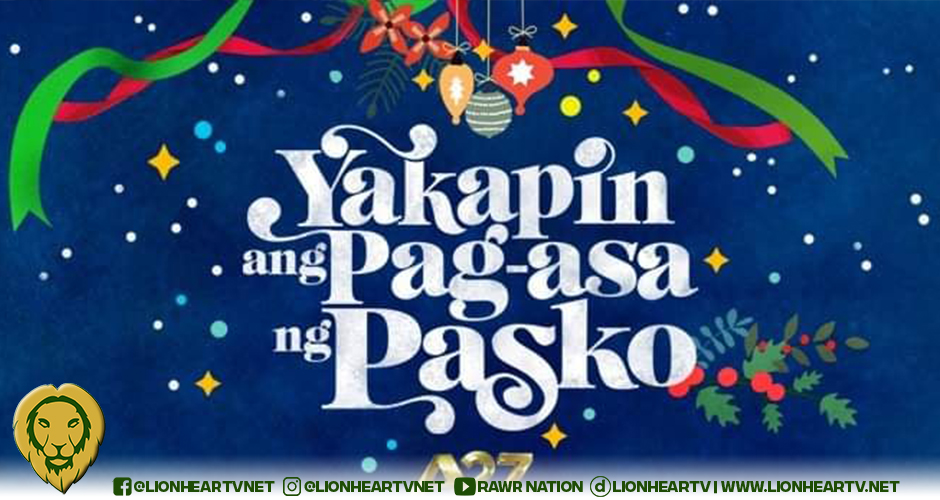 This year's Christmas station ID is penned by Christine Daria Estabillo, with music by renowned producer Jonathan Manalo. Estabillo's words are simply an affirmation of that gift the Almighty bestowed to humanity when He gave Jesus to save from sins. 
'Kailanman ay di tayo iiwanan, dahil pag-ibig Niya ay walang hanggan (He will never leave us, for His love is everlasting)," says one of its reassuring lines, which only enforces our faith to the One who handed us this priceless gift.
Yakapin ang Pag-asa ng Pasko features both ABS-CBN Entertainment and Zoe Broadcasting Network-produced programs. FPJ's Ang Probinsyano, Marry Me Marry You, Viral Scandal, La Vida Lena, It's Showtime, ASAP Natin 'To, and Magandang Buhay, along with Star Cinema movies make special appearances on an A2Z Christmas Station ID for the first time, more than a year since ABS-CBN programs started airing on the channel. 
It also gives a special highlight to the continuing mission of Brother Eddie Villanueva and the Jesus is Lord movement to spread the Gospels of the Lord, and to strengthen the community of faithful [in the country], as it recuperates from what could be one of the greatest health crisis humanity has ever faced.
Most station IDs, especially Christmas IDs, have highlighted themes that involve family and Filipino resilience. 
With Yakapin ang Pag-asa ng Pasko, the focus is shifted on our faith, belief, and the miracles given to us by Jesus. Its timely arrival finds us in our most vulnerable state yet, as most of us have faced, and are in fact still facing, a very challenging year. 
The Christmas ID is a compelling invitation to remain hopeful and to keep holding on to the hope that has kept us strong over the years. That hope, as the song implies, is that star that remained shining over us in our darkest moments, especially this pandemic.
Watch the 'Yakapin Ang Pag-asa ng Pasko' music video, below:
Sa bawat pagsubok at hamon na ating harapin, laging nariyan ang Kanyang pagmamahal sa atin na nagbibigay liwanag at pag-asa na malampasan ang mga ito. Kaya atin nang yakapin ang pag-asa hatid ng kapaskuhan!

Maligayang Pasko ng pag-asa sa ating lahat!#YakapinAngPagAsaNgPasko pic.twitter.com/hJuAzeKgPv

— A2Z (@OfficialA2ZPH) November 21, 2021