The best TV performances of the year largely came from traditional soap operas, and surprisingly–from a charming comedy.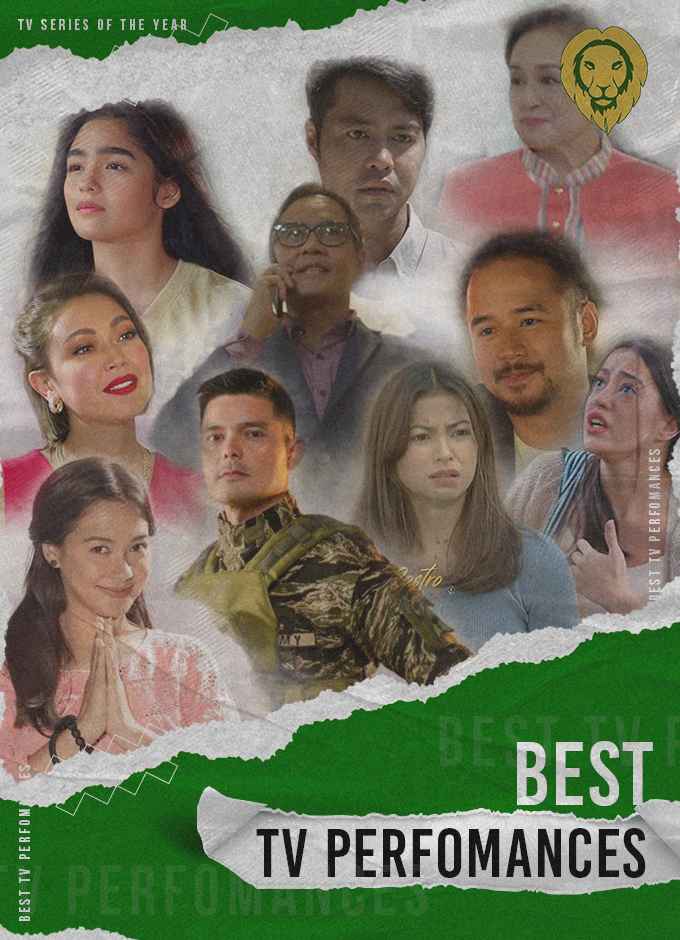 It's difficult to say local television has already returned in full swing, with most TV networks still unable to fill their entire program line-ups with fresh new shows. GMA Network and ABS-CBN, for example, still have reruns in their daytime blocks, although it's worth noting that primetime blocks have (practically) returned to normal for a while now. The dramatic surge of streaming services, where bold and innovative new shows found a home, also presented challenges for traditional television to keep its once unbreakable grip on audiences.
That being said, television still teemed with compelling performances in 2021. Even with ABS-CBN continued shutdown, free television remained capable of delivering some of the most brilliant portrayals local viewers have ever seen on television. From Sue Ramirez, who charmed her way to viewers' hearts through Lenlen, the Ilongga-charmer in TV5 sitcom, Oh My Dad, to John Arcilla, who showed how a true wicked villainous character should be taken on, we look back at one full year of remarkable performances.
Here are 10 of the year's best performances by an actor on a television series:
Andrea Brillantes in Huwag Kang Mangamba.
It takes a young performer of utter artistic brilliance and compelling charisma to be in such a spotlight in an ensemble drama brimming with great actors, like Huwag Ka Lang Mangamba. While there are equally good things to say about her fellow stars, Brillantes has more reasons to be proud about being in the show. The series did not only help her break free from Marga's shadow (Kadenang Ginto)–which her fans and critics consider the role as her most important role on television. It also allowed her to return to portraying a kindhearted protagonist role.
That said, even Mira presented challenges that required Brillantes extra efforts to make the character become a stand-out. Mira isn't that holier-than-thou character, but she has flaws too, which makes her even more human than she looks on the surface. Brillantes pulled off her more sentimental and inspiring side, but she certainly surprised more in moments where Mira had to be brave, feisty, and strong.
Coney Reyes in Love of My Life.
The finale week of Love of My Life exploded with an ultimate revelation that made viewers blown away. Coney Reyes's character, Madam Isabella is at the center of this family drama made the proceedings more exciting. Traditionally, family dramas tend to bore audiences; GMA Network cut done itself with Love of My Life and its brilliant ensemble cast, realistic take on family, and compellingly-woven narrative.
Reyes's years in show business–made her prepare to tackle practically every challenging role. Isabella, a matriarch trying to keep her family and empire together, is not an exception. The realistic articulation of her character had made it powerful; and gave more profound. She was successful in making it relatable.
The show mirrors more on the affairs of a family and relationships.
Dennis Trillo in Legal Wives.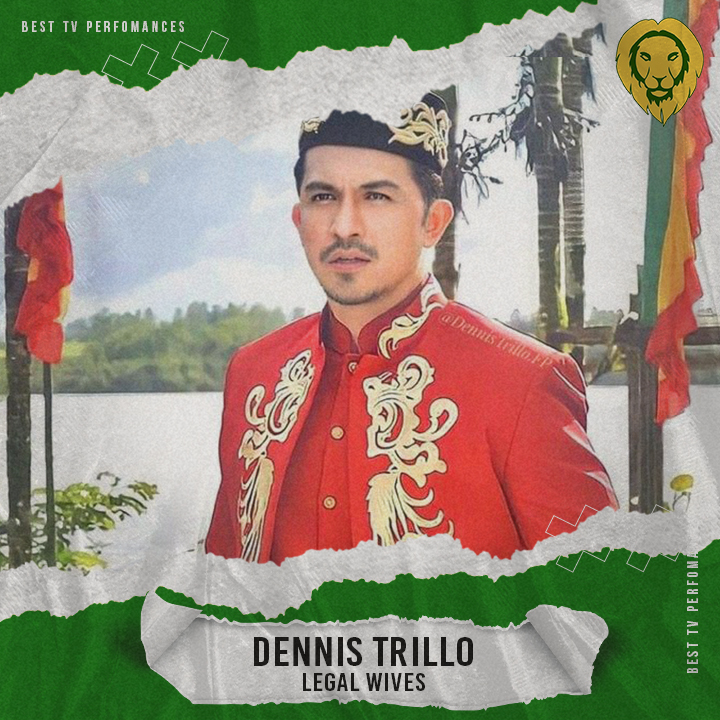 Legal Wives may have ended its run with high ratings, but one can say that it remained underrated in its last episode. Not too many people have consciously relished the amount of great production design and socio-cultural relevance that the show offered, although probably more have failed to understand how the show is filled with singular performances, especially Dennis Trillo's.
Dubbed by GMA Network as the 'Kapuso Drama King', Trillo truly outdone himself by playing Ishmael, the Maranawon royalty married to three different women. For a casual, it is easy to see Ishmael as merely one of those characters any capable actors can take on. But Ishmael is not just one of those characters. He is a multi-dimensional and multi-layered character that needs not just an ordinary performance muscle to be alive. Trillo's restraint and thoughtful perspective of his character greatly reinforced what Ishmael stood for, and made it easier for the show to get across a very timely message about forgiveness, understanding, and more importantly, family. It also brought to the discussion about the often eluded religious conflict in Mindanao, and the taboo tradition of polygamy.
Dingdong Dantes in Descendants of the Sun: The Philippine Adaptation.
Descendants of the Sun PH hinges on the original appeal of the Korean hit series of the same name, which has developed its league of devoted fans in the country. As it is to previous local adaptations of hit Korean dramas, the risk of disappointing the original fans and not making a good impression with casual viewers is high. Fortunately, this adaptation isn't devoid of that similar charm and warmth. The success is made possible by the show's two lovely leads, Dingdong Dantes and Jennylyn Mercado, whose chemistry on the show is one to admire.
There is more to say about Dantes, however. It's hard to say he has duplicated Song Joong-Ki's appeal, but one can say Captain Lucas Manalo is one of the most interesting characters he has ever played. The mix of Filipino touch and K-drama sensibility also made Lucas easy-to-root.
Glaiza de Castro in Nagbabagang Luha.
With sibling dramas becoming a trend in local television, it did not a surprise that GMA Network immediately hopped on the bandwagon. The drama sub-genre has maintained its intrigue over the years, and GMA Network has debuted a few remarkable entries in the past decades. Since the pandemic started alone, the Kapuso Network has emerged victorious with sibling-rivalry-themed soap operas, like Prima Donnas and Las Hermanas.
Starring one of GMA Network's best drama actresses, Glaiza de Castro, Nagbabagang Luha hinges on the overwhelming artistic caliber of its cast, especially of its lead actress. For that alone, the daytime drama bests out most heavy dramas aired in 2021. However, one had to look at certain players like de Castro to see her full glory as an artist. Full of smoldering chaos and simmering intensity (mostly between de Castro's character, Maita, and Claire Castro's Cielo), Nagbabagang Luha conveniently became a perfect venue for de Castro to showcase her range and incredible acting chops.
Iza Calzado in Ang Sa Iyo Ay Akin.
Playing a bida-kontrabida role must be a challenge for Calzado, who has spent more artistic energy in playing the goodhearted protagonist in her past shows. 
In Ang Sa Iyo Ay Sa Akin, Calzado finally flexed that versatility of hers, by playing the cold-hearted Ellice. It's worth noting, however, that Ellice became an even more interesting character because of her main rival, Marisa, which is portrayed by Jodi Sta. Maria. That said, it's impossible to get convinced Ellice would be boring without Marisa, as Calzado's fiery portrayal.
A big part of Ang Sa Iyo Ay Sa Akin's intrigue is its overwhelmingly explosive ensemble, but throughout its duration on the air, strong characters like Ellice kept it ablaze and helped it maintain the mystery and drama. That would have been impossible had the character not been played by a great actress like Calzado.
Jodi Sta. Maria in Ang Sa Iyo Ay Akin.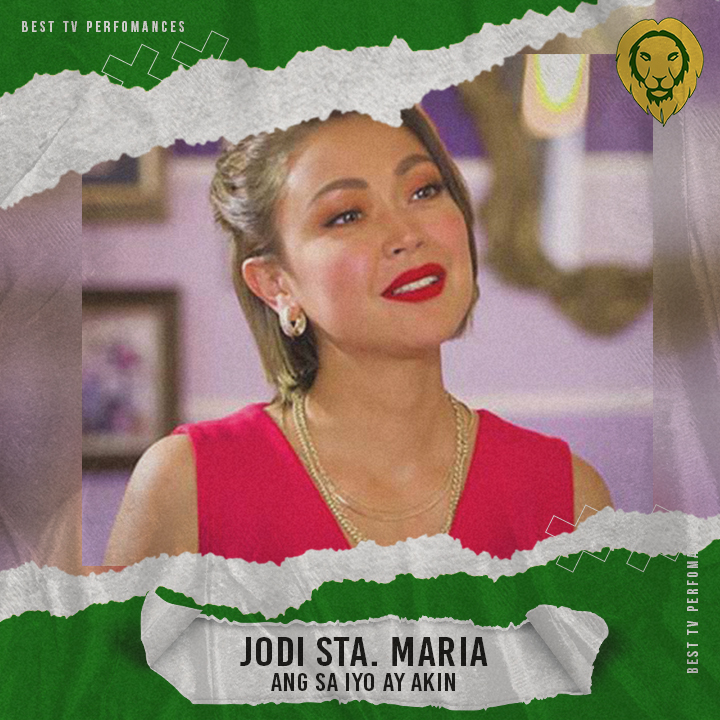 It's interesting to know that Sta. Maria's upcoming project, The Broken Marriage Vow, will see her play a character who got cheated on by her husband. In Ang Sa Iyo Ay Akin, she's the one who played the third party and the one labeled as the homewrecker. That said, there is much more to see about her character, Marissa, who is not simply a mistress. Her actions and behavior are motivated by a bitter past; she's after exacting revenge.
Marissa's multi-layered personality certainly demands a great actress to deliver its nuances and range. It's a requirement Sta. Maria satisfyingly met with her grace and grit, proving yet [again] her mettle in tackling complex roles.
JM de Guzman in Init Sa Magdamag.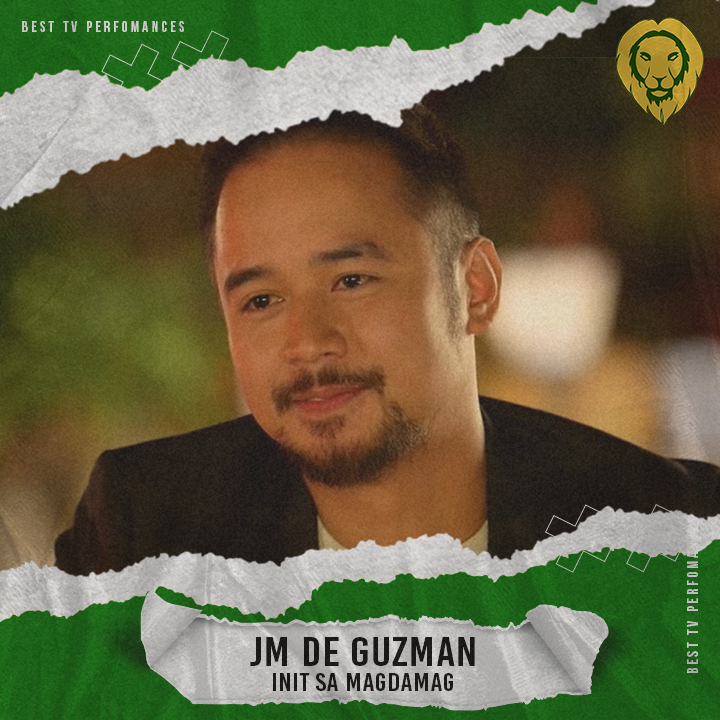 You can see how Peterson isn't a character without cracks, even when he initially projected a humble and amiable personality in Init Sa Magdamag. JM de Guzman's capacity to showcase Peterson's multi-layered demeanor is breathtaking to behold, as this kind of talent is hard to come by.
That said, it's not surprising at all that de Guzman soared again in his debut as the main antagonist in a series. It only affirmed the brilliance of an actor critics have always seen him since he resurfaced in the local entertainment scene a decade ago.
John Arcilla in FPJ's Ang Probinsyano.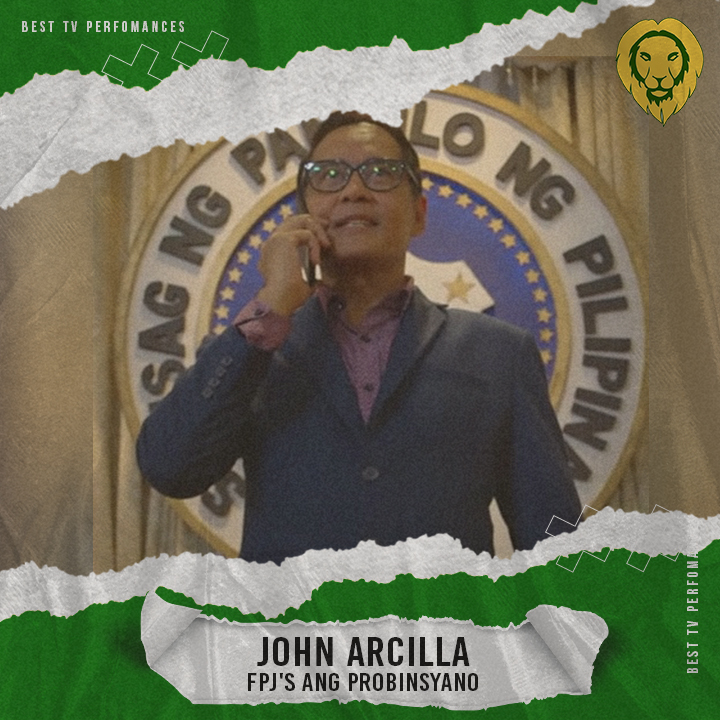 In the six-year-old FPJ's Ang Probinsyano, alone, one would struggle to pick the villain to disgust the most. But Renato Hipolito, whose sinister wickedness isn't something viewers have seen, at least in the last six years, could stake a claim to being the devil himself. Arcilla certainly outdoes himself this time, as he perfectly embodies Hipolito's devilish ways and wicked personality without losing his humanity. One of the wonders that ultimate villains like Hipolito have is that glimmer of the reason that motivates them of who they are. That makes them remain human.
Arcilla victoriously carries out that juxtaposition and delivers a compelling take of 'the antagonist', who is hellbent on putting an end to the protagonist. Although, one can imagine how frustrating and infuriating it must have been to go after Cardo Dalisay in the last three or four years and not get a favorable result. Arcilla has gone beyond playing 'pro' at this point.
Maja Salvador of Niña Niño.
It takes a great actress to tackle a challenging role, and Salvador certainly understood the assignment when she began playing Niña in her first TV5 series. Before Niña Niño, she reigned supreme in the realm of revenge drama. She had two monster hits, Wild Flower and The Killer Bride, to stake her claim to be the queen of the genre.
Through Niña Niño, Salvador found an opportunity to showcase her versatility. She goes beyond what the audience expects of her. Niña may be a familiar character, but it isn't one any actress can easily pull off and come up with a mind-blowing result. Carefree, street smart, and bubbly, Niña is practically a sugarcoated bomb just waiting to explode. And she did explode a few times in the story, including that one time Niño died and returned to life miraculously when their Lola Belen went missing and when their mother Delia suddenly returned to their lives after years of abandoning them. Niña's multilayered personality makes it difficult for any actor to tackle her head-on, but Salvador, who breathed into life many challenging characters, unsurprisingly brought her to life.
Sue Ramirez of Oh My Dad!
They say comedy and drama are two entire realms in the universe of acting and that the best at one department is rarely as good at the other. The keyword is 'rarely' for a few who excel at both. Ramirez's time to prove herself in the latter comes in the upcoming drama. The Broken Marriage Vow, but it's worth noting how she already defied expectations in comedy.
While there's no denying Lenlen's inherently humorous character and amusing Ilonggo charm conveniently provided Ramirez ease to tackle the role, the task is not devoid of a challenge. Though she still needed to summon humongous comic energy to make her work, which she did with flying colors.
Zanjoe Marudo of Walang Hanggang Paalam.
Marudo is one of the most visually-stunning leading men in local showbiz–be it in movies and on TV; as he has taken advantage of his beauty to play the good tall, dark, and handsome protagonist. In the past, he got denied of exploring his versatility. In Walang Hanggang Paalam, he finally got the chance to break the barrier by playing Anton, the son of a human trafficking syndicate, Amelia (Cherry Pie- Pic ache).
The role found Marudo sporting devilish traits underneath an angelic facade and it segregated him from his previous roles. That enabled him to strike a chord while also allowing a legion of haters to surface–proving his effectiveness as an actor.
Take note that the list does not include exemplary single drama performances (drama anthologies, special mini-series). Do you agree with this list? Which character from TV shows that aired this year captured your attention? Make sure to share your thoughts in the comment section.
Comments